HOLLYWOOD HIGHLIGHT REEL: REEL HONESTY

Week 2:  October 17/18
 eGROUP LESSON PLAN
HONESTY
Choosing to be truthful in what you say and do.
MAIN POINT
When you are not truthful, you can hurt the people you care about.
MOVIE
The Lion King
MEMORY VERSE: COLOSSIANS 3:9-10 (NIV)
Don't lie to one another, since you have taken off your old self
with its practices and have put on the new self, which
is being renewed in knowledge in the image of its Creator.
BIBLE STORY
Jacob Deceives Isaac
Genesis 27:1-45
ENGAGE
ENGAGE starts 20 minutes before the worship experience begins. (4:40, 9:10, 11:10)
ENGAGE
Engage is a time to welcome kids to your eGroup with a fun activity to help them feel comfortable and get to know each other.
TIME
30 MINUTES
DO: Start by introducing yourself and welcoming kids to the eGroup. Ask them about their week and interests. Once you have five to six kids begin the Engage activity.
MOVIE STORYBOARDS
SUPPLIES
MOVIE STORYBOARD, PENS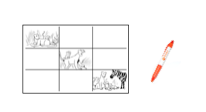 DO: 
Kids will create their own movie storyboard by filling in the blanks on the Movie Storyboard.
Give each kid a Movie Storyboard paper and a pen.
Have kids draw in the missing boxes of the storyboard to complete the story.
Once kids have finished their Movie Storyboard, let kids share.
"LIGHTS, CAMERA, ACTION" CARD GAME
SUPPLIES
MOVIE REEL DECK OF CARDS (2 PER eGROUP), "LIGHTS, CAMERA, ACTION" CARD GAME INSTRUCTIONS

DO:
Kids can play in groups no larger than eight. Start a second game if needed.
Have kids sit in a circle and deal the deck as evenly as possible. It's okay if kids don't have the same number of cards.
Kids place their pile of cards face down in front of them.
Follow the "Lights, Camera, Action" card game instructions to play this game with your eGroup.
MEMORY VERSE
BEGIN ACTIVITY 10 MINUTES AFTER THE START OF THE WORSHIP EXPERIENCE (5:10, 9:40, 11:40)
MEMORY VERSE
During this time introduce your eGroup kids to the series virtue and memory verse. Spend time teaching and practicing the memory verse.
SUGGESTED TIME
5-8 MINUTES
SUPPLIES
NONE
SAY: "Welcome to eGroup! My name is _______ and I'm your eGroup leader! As an eGroup we will hang out together during Motion, hear stories from the Bible, learn what it means to live for Jesus, and play games!
We are in a series called Hollywood Highlight Reel 3. In Hollywood Highlight Reel 3, we'll enter The Vault and check out some classic movies each weekend. We will look at reel honesty and how to be truthful in whatever we say and do. Today we will learn when you are not truthful, you can hurt the people you care about. 
The Bible talks about the importance of honesty to God. When anyone believes in Jesus, they are a new creation – the old has gone and the new has come. (2 Corinthians 5:17) As a new creation, we choose to live in ways which make us more like Jesus. Sharing, obeying our leaders, loving people – these are a few ways we become more like Jesus. Our series memory verse says when we follow Jesus and do not lie to each other, we are becoming more like Jesus, too. Let's learn Colossians 3:9-10 to remind us how important being honest is to God."
DO: Practice the memory verse with kids. You can use the following methods to help kids learn the memory verse:
REPEAT AFTER ME: Have kids repeat the words after you.
PAIR UP: After practicing the verse as a group, have kids pair up to practice the verse.
MOTIONS: Come up with motions to help remember the verse as a group. Practice it together.
DROP A BEAT: Put the verse to a beat as you say it together. You can do this by clapping, patting your legs, stomping, or any combination to make a beat.
Don't lie to one another, since you have taken off your old self
with its practices and have put on the new self, which
is being renewed in knowledge in the image of its Creator.
Colossians 3:9-10 (NIV)
STOP: TRANSITION TO LARGE GROUP
GROW: LIGHTS
DISHONESTY CAN HURT
DISCUSSION ACTIVITY: During Grow: Lights you'll shine a light on the main point for the day. Kids will connect the theme of honesty to the movie clip and will connect how honesty applies to their lives. They will also connect with each other.
SUGGESTED TIME
8-10 MINUTES
SUPPLIES
POPCORN CONTAINER, POPCORN PIECES (5 OF EACH COLOR – RED, YELLOW, BLUE AND GREEN), LEADER SHEET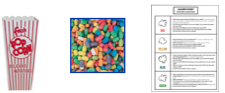 SAY: "Simba was dishonest when he convinced Nala to sneak away from Zazu to go to the elephant graveyard. No one knew where they were and the elephant graveyard was a dangerous place! Simba knew that if he told the truth his parents wouldn't let them go. Simba put Nala in danger by not telling the truth."
DO:
Have kids sit in a circle and introduce themselves.
Give one kid in the circle the popcorn container with the popcorn (packing peanuts of different colors) inside.
When you say, "Pass the popcorn," kids will pass the popcorn container around the circle.
When you say, "Stop the pop," the kid holding the popcorn container will choose a piece of popcorn from the container.
Read a question from the leader sheet that corresponds with the color of popcorn chosen.
Have kids discuss the question.
Have kid place the popcorn chosen in the middle of the circle.
Repeat for eight to ten questions.
Put popcorn back into popcorn container.
SAY: "Not telling the truth can hurt those we care about. When you face the choice of telling the truth or not, think about what would happen to the people you care about if you don't tell the truth. Let's hear a story from the Bible and see what happened when a man named Jacob chose to not tell the truth."
 GROW: CAMERA
JACOB DECIEVES ISAAC | GENESIS 27:1-45
BIBLE STORY ACTIVITY: During the second part of Grow: Camera kids will learn what the Bible says about honesty. Kids will help act out a story to illustrate what the Bible taught.
SUGGESTED TIME
8-10 MINUTES
SUPPLIES
STORY SCRIPT, PROP CARDS (QUIVER AND BOW CARD, GOAT CARD, FUR CARD, FOOD CARD, ESAU'S CLOTHES CARD, CHARACTER CARDS)

SAY: "Our Bible story comes from the book of Genesis, the first book of the Bible. The main character in this story is a man named Jacob. Jacob was the second born son to a man named Isaac. In Jacob's time, the first born son received the blessing from his father. The blessing was a BIG deal. Jacob wanted the blessing, but he had to lie to his father to get it. Jacob hurt those he cared about by being dishonest. I'm going to need your help to tell this story to see what happened when Jacob deceived Isaac."
DO:
Assign four kids to play different roles in the story: Jacob, Isaac, Rebekah, and Esau. The rest of the eGroup will be audience members who will interact with the story. The eGroup leader is the Narrator.
If you do not have enough kids in your eGroup to play the different roles, have kids play more than one role.
Read the Bible Story Script and have kids act out the Bible story using the prop cards.
After the Bible Story:
SAY: "Jacob hurt his father and brother when he chose to lie to get the birth right. His brother Esau would hold a grudge against his brother because of this for many, many years. His father died knowing the dishonest thing his son had done.
Honesty is a big deal to God! One of the 10 commandments, the 10 rules God gave the Israelites to show them how to live, is to tell the truth. Honesty isn't an easy choice, though. In every situation Jesus faced, he had a choice: He could be truthful in what He said and did or He could tell a lie. When we choose to be truthful in what we say and do, we live like Jesus did. When we are not truthful, we sin against God, and hurt ourselves and the people we care about."
GROW: ACTION
ELEPHANT GRAVEYARD
PRAYER AND GAME ACTIVITY: Prayer is an important way to share Jesus with passion. Spend time in prayer with your eGroup before beginning the game.
SUGGESTED TIME
8-10 MINUTES
SUPPLIES
eKIDZ PRAYER JOURNAL, PENS, HULA HOOPS (2), ELEPHANT BONES (20 PACKING PEANUTS FROM PREVIOUS ACTIVTY), TIMER

SAY: "Before we begin our last activity, let's pray together."
DO: Take prayer requests and write them down in your eKidz prayer journal so you can pray for your eGroup kids during the week. Encourage kids to share one or two prayer requests. Invite kids to pray with you if they want.
SUGGESTED PRAYER: "Dear God, thank You for your love and protection. Thank You for teaching us the importance of honesty in our lives. Help us to follow Your ways and to choose honesty so we don't hurt others. We love You! In Jesus' name, amen."
SAY: "Simba and Nala were in the elephant graveyard. Shortly after getting there they were ready to leave the elephant bones behind! For our game today, you will want to get out of the elephant graveyard by moving the elephant bones out of your team hula hoop and into the other team's hula hoop!"
DO:
The goal of the game is to transfer as many elephant bones (styrofoam peanuts) to the opposing team's hula hoop before time runs out.
Divide kids into two teams and have them sit on opposite sides of the eGroup area.
Place the hula hoops in the center of the eGroup area a few feet apart.
Place ten elephant bones in each hula hoop.
For each round have teams send up two kids to play.
Choose an elephant rule from the elephant rules card for each round. These rules will dictate how kids can move the elephant bones during the round.
NOTE: Kids can only move one elephant bone at a time and it must make it to the other team's hula hoop before they can go back to their hula hoop to move another elephant bone.
For each round, the kids chosen have one minute to move the elephant bones.
The team with the least amount of elephant bones in their hula hoop earns a point for their team.
Play as many rounds as time allows choosing different kids from teams each round.
The team with the most points wins!
STOP: TRANSITION TO LARGE GROUP
Take lesson plan and Bring It! supplies to Large Group!
Supplies: Memory Verse Cards
BRING IT! CHALLENGE
THE BRING IT! CHALLENGE WILL BE COMPLETED IN LARGE GROUP.
OVERVIEW: During Hollywood Highlight Reel 3 kids will receive a snack from the concession stand each weekend for bringing their Bible. On the last weekend of the series, November 7/8, kids who recite the series memory verse will receive a box of candy and soda.
TIME
5-6 MINUTES
SUPPLIES
MEMORY VERSE CARD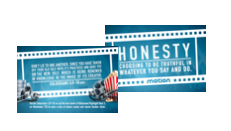 SAY: "During Hollywood Highlight Reel 3 you will get rewarded for bringing your Bible each week! Bringing your Bible to Motion is important because we read and learn from it every weekend! Who has their Bible today? (Celebrate kids who have their Bibles.) Whenever you bring your Bible during the series you'll get an extra movie snack!"
DO: Explain to kids that once the movie starts, the host will call each eGroup one at a time. All kids who have their Bible will bring it to the concession stand to redeem an extra movie snack.
SAY: "Who remembers the memory verse we practiced earlier? (Allow kids to respond.) If you say the series memory verse, Colossians 3:9-10, the last weekend of the series, November 7/8, you will get a box of candy and a drink!"
DO: Give VIP kids/kids new to series a memory verse card so they can practice at home. Tell them to place the card next to their bed, on their bathroom mirror, or on their kitchen table to help remind them be honest each and every day and learn Colossians 3:9-10. If kids have a Bible, have them place it in their Bible so the card will make it home and not be lost.