FIND3RS: THE MASK OF MONODIOS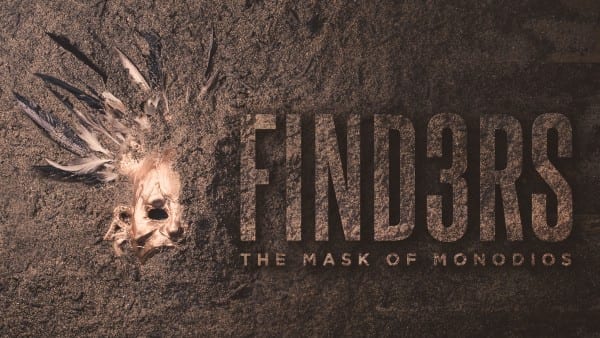 ENDURANCE
Sticking with what you started even when it gets tough.
MAIN POINT
I can stick with it even when things don't go my way.
MEMORY VERSE: GALATIANS 6:9 (NIV)
Let us not become weary in doing good,
for at the proper time we will reap a harvest if we do not give up.
BIBLE STORY
Paul's Mission
Acts 27-28
STORY FOCUS
Snake Bitten
Acts 28:1-5
ENGAGE
ENGAGE starts 20 minutes before the worship experience begins.
ENGAGE
Engage is a time to welcome kids to your eGroup with a fun activity to help them feel comfortable and get to know each other. Start by introducing yourself and welcoming kids to the eGroup. Ask them about their week and interests. Once you have five to six kids begin the Engage activity.
TIME
20 MINUTES
STICK WITH IT
SUPPLIES
STICKS (2 SETS PER eGROUP)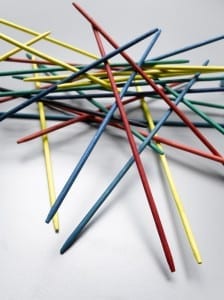 SAY: "This series we are going to learn about endurance. Endurance is sticking with what you start even when it gets tough. Let's test our endurance with the game, Stick With It!"
DO: 
The object of the game is to pick up the most sticks from the pile of sticks.
Have kids play in groups of no larger than eight. For large eGroups, start a second game with the second set of sticks.
Give each group a set of sticks.
To begin the game, pile the sticks on top of each other so they overlap. The more tangled the sticks, the more difficult the game will be.
Kids will take turns removing a single stick from the pile without moving another stick.
If another stick moves while attempting to remove a stick from the pile, the group yells "STICK WITH IT!"
The kid gets a second chance to remove a stick.
If on the first or second try the kid successfully removes a stick without moving another, he or she keeps the stick.
If on the second try a stick moves while attempting to remove a stick, the kid loses their turn and the next kid takes a turn.
The game is over when the last stick is removed.
The winner is the kid with the highest number of sticks picked up during the game.
Play again as time allows.
Set an expectation with your eGroup to use the sticks to play the game and for no other purpose.
MODIFICATION FOR OLDER KIDS: Older kids can only use one hand to pull a stick from the pile.
 CONNECT
ONCE THE WORSHIP EXPERIENCE BEGINS (5:00, 9:30, 11:30)
CONNECT
Connect is a time for kids to connect with their eGroup leader. Participate and have fun with your eGroup. Learn the names of your eGroup kids and try to learn something about each one. Let them learn about you!
SUGGESTED TIME
10 MINUTES
SUPPLIES
STICKS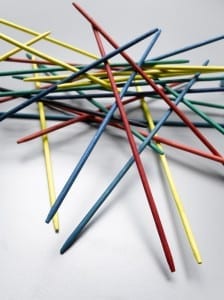 SAY: "Welcome to eGroup! My name is _______ and I'm your eGroup leader! As an eGroup we will hang out together during Motion, hear stories from the Bible, play games, and learn what it means to live for Jesus!
This is the first weekend of FIND3RS. That's right, our favorite mystery solving team is back! This series, they will be learning a lot about endurance. Before we talk more about the series, let's get to know each other."
DO:
Have kids sit in a circle.
Have them choose a stick from the pile. eGroup Leaders choose a stick, too!
Have everyone introduce themselves and answer the question below which matches the color of the stick chosen.
Collect sticks from kids after all kids have had a turn to share.
NOTE: VIP kids will not know any of the Finders for the blue question below. If a VIP has a blue stick, have them pick a Finder to look for in today's episode of FIND3RS.

DO, AS TIME ALLOWS: Ask a question and have kids share their response.
What is something you are proud of yourself for doing? (getting a good grade, winning a game, completing a project)
Have you ever given up on something because it was too hard?
SAY: "Some of our proudest accomplishments don't come easily. We have to work hard when things don't go our way. If we give up because things get hard, we won't accomplish some of the great things we are proud of in our lives. Today we will learn, I can stick with it even when things don't go my way."
TRANSITION TO LARGE GROUP
 BRING IT! CHALLENGE
OVERVIEW: During FIND3RS, kids will collect trading cards! Kids will earn three cards for attending Motion each week and earn prizes for collecting different combinations of cards. Kids will have time to trade cards during Large Group. The will be a Robber Rule in eGroup. If you see cards out during eGroup, you get to collect from the child who has their cards out at the wrong time to add to your collection.
TIME:
7-8 MINUTES
SUPPLIES:
RULES CARD, TRADING CARD RELEASE POSTER, TRADING CARD PRIZE POSTER, FIND3RS ARTIFACT FILE, SHARPIE, MEMORY VERSE CARD

SAY: "With a new Finders series brings a whole new set of Finders trading cards! You'll receive three cards each week just for attending Motion. You'll get today's pack on the way back to Large Group!"
DO:
Go over trading card rules and give each kid a rules card.
Go over card release dates using the Trading Card Release Poster.
Go over prizes for different combinations using the Trading Card Prize Poster. EXPLAIN kids can only get all of the prizes if they collect ALL of the cards. Otherwise they can only choose one prize based on the combination of cards they have collected.
Tell the kids they'll have time to trade in Large Group and to bring back their cards every week so they can collect and trade.
Explain the ROBBER RULE. Cards can only be out during Bring It! and card trading time in Large Group. If you see them out an any other time, you get to take a card from their collection.
SAY: "All great finders collect their findings and discoveries. This series, you'll collect your cards and findings about endurance during eGroup using this FIND3RS Artifact File! Make sure to bring your FIND3RS Artifact File back to Motion every weekend of the series."
DO: Pass out FIND3RS Artifact Files. Have kids write their names on their FIND3RS Artifact File with a sharpie.
SAY: "I have one more Bring It! prize to tell you about. If you say the series memory verse the last week of the series, June 6/7, you will earn the memory verse prize! Our verse this series is Galatians 6:9. It reminds us to not give up when things get tough, because the hard work is worth it when we accomplish our goal! Let's practice!" Have kids repeat the words and motions after you. Then give each kid a memory verse card to practice at home.
Let us not become weary (wave pointer finger back and forth)  in doing good, (thumbs up)
for at the proper time (point to wrist)  we will reap a harvest (hold arms out)
if we do not give up. (point up)  Galatians 6:9 (hold up six, then nine fingers)
GROW
PAUL'S MISSION | SNAKE BITTEN
ACTS 27:1-28:30 | ACTS 28:1-5
SUGGESTED TIME
8-10 MINUTES
SUPPLIES
BIBLES, eGROUP TIMELINE, BIBLE STORY ARTIFACT (SNAKE), FIND3RS ARTIFACT FILE

SAY: "When The Finders heard the drone message, they began a mission to find Dani. It sounds like things didn't go their way. The Finders chose to stick with it even when things got a little crazy. Sticking with it paid off, because they found Dani!
For the next few weeks, we are going to read about the mission of a man named Paul. Wherever Paul went he had a mission to tell people about Jesus. But things didn't always go Paul's way. (refer to eGroup timeline.) He was arrested. On his way to Rome for trial the ship Paul was sailing on was caught in a scary storm. But even in the storm Paul taught the soldiers and crew on the ship about trusting in Jesus. Then, the storm caused the ship to be wrecked on an island. Do you think Paul gave up? (Allow kids to respond.) Let's read about what happened next. Let's open our Bibles to Acts 28:1."
DO:
Help kids find Acts 28:1 in their Bible.
NOTE: This may take time but it helps kids learn skills for reading the Bible on their own.
Read Acts 28:1-5 from the Bible. Kids can read along in their Bibles.
SAY: "Things really were not going Paul's way! After surviving the storm and the shipwreck, Paul was bitten by a poisonous viper! Paul was okay, but do you think it caused him to give up? (Allow kids to respond.) NO! Paul continued with his mission. He helped the people who lived on the island, prayed over them, and healed them in Jesus' name."
DO: Put a Bible story artifact sticker (snake) on the eGroup timeline in the week 1 spot.
SAY: "During this series we are going to collect artifacts to help us remember how we can stick with it even when things get tough. Our first artifact is the Bible story artifact. What does this snake remind us about endurance? (Allow kids to respond.) Paul didn't let the snake stop him from doing what he started. Even when things didn't go his way, he decided to stick with it and keep telling others about Jesus.
Everyone, get our your FIND3RS Artifact File so you can collect your Bible story artifact. Put the artifact sticker on the outside of your FIND3RS Artifact File."
DO: Give kids the Bible story artifact sticker to put on the outside of their FIND3RS Artifact File.
 GROW
WHEN THINGS DON'T GO YOUR WAY
DISCUSSION ACTIVITY
SUGGESTED TIME
8-10 MINUTES
SUPPLIES
PAPER, PENS, ENDURANCE ARTIFACT (ARROWS), FIND3RS ARTIFACT FILE

SAY: "Let's find how we can have endurance in our own lives. For each short story I read to you, pretend you are in the story. Draw or write on the paper I'm going to give you what you would do to stick with it."
DO:  Give kids a piece of paper and a pen. Read each scenario below. After each scenario give kids time to respond on the paper and share responses before moving on to the next scenario.
DISCUSSION SCENARIOS:
James is on a basketball team. During the last game he missed all of his free throw shots and only scored two points.
Carrie has to go to math tutoring twice a week because she didn't pass her last two math tests.
Terrence's alarm didn't go off, he missed the bus, and now he's late for school.
Jordan made a birthday card for his mom a week before her birthday. Now it's the day before and he can't find the card anywhere.
Mallory missed a week in Motion and now she's behind in collecting cards.
Josh is training his dog to chew only on dog toys. When he came home from school he sees the dog chewed up his favorite pair of sneakers.
Carson hasn't seen his friend John in a long time. He made plans to spend the day playing baseball with him. When he woke up his dad told him it was going to rain all day.
SAY: "You did a great job deciding how to stick with it in each situation. You've earned your endurance artifact! This artifact can remind you that even when things are tough because they don't go your way, you can stick with it."
DO: Give kids the endurance artifact sticker. Have them place it on the outside of their FIND3RS Artifact File.
GROW
SNAKE BITE
PRAYER AND GAME ACTIVITY
SUGGESTED TIME
8-10 MINUTES
SUPPLIES
eKIDZ PRAYER JOURNAL, BALL, GAME ARTIFACT ("STICK" WITH IT), FIND3RS ARTIFACT FILE

SAY: "Before we begin our last activity, let's pray together."
DO: Take prayer requests and write them down in your eKidz prayer journal so you can pray for your eGroup kids during the week. Encourage kids to share one or two prayer requests. Invite kids to pray with you if they want.
SUGGESTED PRAYER: "Dear God, thank You for the opportunity to learn from Your Word today. Just like Paul stuck with it when things didn't go his way, help us to stick with it when things don't go our way. We love You! In Jesus' name, amen."
SAY: "Today we learned Paul did not let a snake bite stop him from continuing in what he had started. He knew sharing Jesus with others was important, and even when things didn't go his way, he kept at it. Today, in our game Snake Bite you'll have to stick with it in order to earn your game artifact!"
DO:
Have kids sit in a circle.
The goal of Snake Bite is to pass the snake (ball) around the circle without dropping the snake (ball). The snake (ball) must be passed to each kid.
If the snake (ball) is dropped the kid who dropped the snake (ball) is out and must sit on the outside of the circle.
Whenever you yell out, "Snakebite," the kid holding the snake (ball) loses the use of a limb.

FIRST SNAKEBITE: right hand
SECOND SNAKEBITE: left hand (use elbows to pass the ball)
THIRD SNAKEBITE: both arms (must use feet to pass the ball)

Continue play until two people are left. They are the winners!
Play again if time allows.
SAY: "Great job sticking with it! Here's your first game artifact! Remember to stick with it what you start even if things don't go your way."
DO: Give kids a game artifact sticker to put on the outside of their FIND3RS Artifact File.