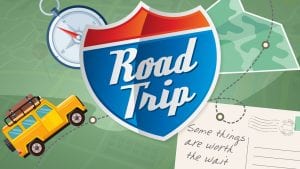 PATIENCE: Waiting until later for what you want now.
Series Memory Verse: "Wait for the Lord; be strong and take heart and wait for the Lord." Psalm 27:14 (NIV)
Main Point: When you think you can't wait, think twice.
Bible Story: Esau's Impatience | Genesis 25:24-34
Have you ever been on a road trip? As much as the journey is worth it to get to the destination, road trips take time and waiting to arrive can be frustrating. But it's not just with road trips. It seems like we are always waiting for something or someone all the time. Because of Jesus and His sacrifice, WE CAN WAIT. We can trust that God is in control. We can have hope that things will work out in the end. And we can be patient because we know all that God has done. God is patient.
We'll finished out the month with one of the best examples of what happens when you're not patient; you lose something of value. In Genesis 25:24-34, we discover the story of Esau sacrificing his birthright for a bowl of stew. Because Esau was impatient, he lost something he could never get back.
RoadTrip_Week5 from Elevation Church eKidz on Vimeo.
When you think you can't wait, think twice. Don't let your lack of patience cause you to make a decision you'll regret. Think twice about what really matters. Ask God to help you wait patiently for what matters most.