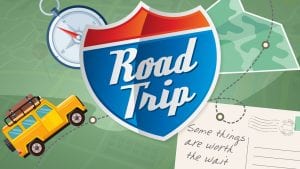 PATIENCE: Waiting until later for what you want now.
Series Memory Verse: "Wait for the Lord; be strong and take heart and wait for the Lord." Psalm 27:14 (NIV)
Main Point: When you think you can't wait, talk to God about it.
Bible Story: Hannah Prays for a Baby | 1 Samuel 1:6–2:1
Have you ever been on a road trip? As much as the journey is worth it to get to the destination, road trips take time and waiting to arrive can be frustrating. But it's not just with road trips. It seems like we are always waiting for something or someone all the time. Because of Jesus and His sacrifice, WE CAN WAIT. We can trust that God is in control. We can have hope that things will work out in the end. And we can be patient because we know all that God has done. God is patient.
In 1 Samuel 1:6–2:1 we discover the story of Hannah. She had waited years for a child. Rather than become frustrated and angry toward God, she prays and tells Him all about it. When God answers her prayer, she gives her son back to God. He honored her waiting and blessed her with even more children.
RoadTrip_Week2 from Elevation Church eKidz on Vimeo.
When you think you can't wait, talk to God about it. It's important for us all to remember that talking to God about waiting will help us stay patient through whatever circumstance we might face. He may not change our circumstance, but He'll give the strength to keep waiting well.
The Bring It! Challenge
We want kids to Bring It! to church. The Bring It! Challenge encourages Motion kids to bring themselves, their Bible, and scripture they've learned to Motion. Not only can kids be rewarded for bringing it, but the Bring It! Challenge is a fun way to grow and learn more about God and how He wants us to live.
During Road Trip, kids can earn fun prizes each week. Kids have to FIND Psalm 27:14 in their Bible, RECITE it from memory, and SAY what our series virtue, forgiveness, means!