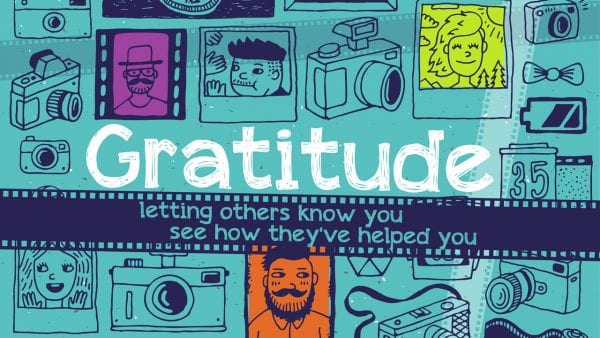 Gratitude: Letting others know you see how they've helped you.
Series Memory Verse: "Give thanks in all circumstances, for this is God's will for you in Christ Jesus." 1 Thessalonians 5:18 (NIV)
Main Point: Say thank you.
Bible Story: Jesus Heals 10 Men | Luke 17:11-19
Have you ever paused to think about everything God has done for you? He created a planet that's perfectly suited for otters and ostriches and YOU. Then, He sent His Son, Jesus, to that planet to die and be raised to life so He could have a forever relationship with you. Throughout this month, we'll help kids refocus their attention to all that God has done for them. Because when you know what God has done for you, YOU CAN BE THANKFUL—ALWAYS.
This weekend we remembered how important it is to say thank you.
reFocus | Jesus Heals 10 Men from Elevation Church eKidz on Vimeo.
In our Bible story today Jesus changed 10 men's lives when He healed them of an awful disease. The men were free from pain and could go home to their families! But only ONE of them stopped to say thank you. It's so important for us to be like that man and always stop to say thank you. If you don't say it and you don't show it, no one will know it! Always remember to say thank you.
The Bring It! Challenge
We want kids to Bring It! to church. The Bring It! Challenge encourages Motion kids to bring themselves, their Bible, and scripture they've learned to Motion. Not only can kids be rewarded for bringing it, but the Bring It! Challenge is a fun way to grow and learn more about God and how He wants us to live.
During reFocus, kids can earn fun prizes each week. Kids have to FIND 1 Peter 2:17a in their Bible, RECITE it from memory, and SAY what our series virtue, respect, means!