Bible Story: Noah (God's Promises) | Genesis 8:1-9:17
Main Point: God keeps His promises.
Memory Verse: "Trust the Lord with all your heart." Proverbs 3:5, NCV
This month, the true stories of Noah, Jonah and Naaman will help us get to know God a little better and see that He is 100% worthy of our trust. We don't have to hold back. We can let go and DIVE IN! Because no matter what is happening around us, we can always trust God.
In this week's lesson God makes a rainbow as a symbol that He keeps His promises.
God put a rainbow in the sky to remind Noah's family of His promise never to flood the whole world again. Noah trusted God, and God always keeps His promises. We can trust God and believe He will keep His promises to us, too!
Quest Collectible
Each weekend children visit Wonder! Clubhouse they get collectible cards to add to their poster. Once your child collects six cards and brings their poster back to Quest they can receive a special prize! Make sure your child keeps their poster in a place they can see it every day to help them remember what we are learning in Quest and to spend time with Jesus.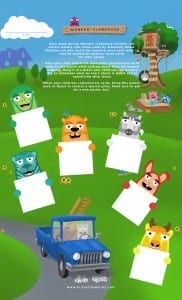 Memory Verse
Join us in helping your child learning Proverbs 3:5 (NCV)! Children can recite the verse every week in September to earn a special Memory Verse take home to put on their poster.
Trust the Lord (point up)
with all (stretch arms wide)
your heart. (hands over heart)
Proverbs 3:5, NCV (open hands like a book)
Knowing this verse helps children remember how we can always trust God completely, no Practice this verse with your child so they can recite it to their eGroup Leader this weekend in Quest!