Bible Story: Aaron Helps Moses | Exodus 17:8-13
Main Point: I am thankful for my family.
Memory Verse: "Always give thanks to God." Ephesians 5:20 (NIV)
This month we're helping children learn to say thank you for the people who help them. And there are a lot of people who help children!
Family, community helpers, people who give them what they need, and last but not least—friends. Children need help, tons and tons of help. And, we want them to grow up with eyes that see the people who help them, and a heart that says thanks.
In this week's lesson, Aaron and Hur helped Moses by holding up his tired arms. 
Moses couldn't hold his arms up very long on his own. He needed help! Because Aaron helped keep Moses' arms up in the air, Moses helped the Israelites win the battle. Just like Aaron and Hur helped Moses, there are so many people in our family who help us in so many different ways. We need to remember to thank God for these people because their help is so important!
Quest Collectible
Each weekend children visit Wonder! Clubhouse they get collectible cards to add to their poster. Once your child collects six cards and brings their poster back to Quest they can receive a special prize! Make sure your child keeps their poster in a place they can see it every day to help them remember what we are learning in Quest and to spend time with Jesus.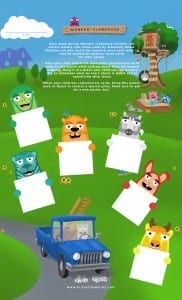 Memory Verse
Join us in helping your child learning Ephesians 5:20 (NIV)! Children can recite the verse every week in October to earn a special Memory Verse take home to put on their poster.
Always (spread arms wide)
give thanks (hand to chin)
to God. (point up)
Ephesians 5:20, NIV (open hands like a book)
This month we're learning to be thankful for all the people who help us. Our verse tells us to give thanks to God. God gives us great helpers, so we should make sure He knows we are thankful for them and for His help, too! Practice this verse with your child so they can recite it to their eGroup Leader this weekend in Quest!