KNOWLEDGE: Discovering something new so you can be better at whatever you do.
MAIN POINT: Discovering what God says helps you know Jesus.
BIBLE STORY: Wise Men Discover Jesus | Matthew 2:1-12
MEMORY VERSE: "Your word is a lamp for my feet, a light on my path." Psalm 119:105 (NIV)
God designed people in such a unique way—different from the rest of creation—to pursue finding the answers to life's hidden secrets. He wants us to pursue knowing more, because He wants us to know Him more.
Jesus helps us know God better. As we dig deeper into the story of Jesus, we discover more about how God desires a relationship with us and invites us to help Him spread the message of Jesus throughout the world. To do that, we need to know God through Jesus. God is real, God made us, and He made all things.
We will spend the month of January taking a closer look at the way knowledge shows up throughout the Gospels.
In Matthew 2, we discover wise men in the Far East. Their lives were dedicated to discovering more about the universe. One night they noticed a bright star that lead them on an epic journey to find the King of Kings prophesied in the ancient Hebrew Scriptures.
Discovering what God says helps us know Jesus. The entire Bible points to Jesus. If we want to get to know Jesus, we can read what the writers of the Bible say about Him. The Bible is the key to knowing more about Jesus.
January Bring It! Challenge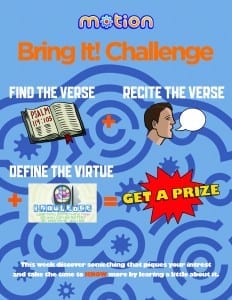 We want kids to Bring It! to church. The Bring It! Challenge encourages Motion kids to bring themselves, their Bible, and scripture they've learned to Motion. Not only can kids be rewarded for bringing it, but the Bring It! Challenge is a fun way to grow and learn more about God and how He wants us to live.
During Brain Games, by sharing their new knowledge with their eGroup leader, kids can earn fun prizes each week that will be fun and stretch their brain at the same time by:
showing Psalm 119:105 in their Bible.

reciting Psalm 119:105 from memory.

reciting the series virtue, Knowledge from memory. (Knowledge: Discovering something new so you can be better at whatever you do.)
In Psalm 119:105, we read that God's word is like a light that guides us. When we dig into God's word, we start to know how God wants us to live. The Bring It! Challenge helps kids dig into God's words and see the next steps to take on their journey through life. God's Word points the way towards a growing relationship with Jesus.

eKidz At Home Activities
Family activities to review the lesson lesson with your kid this week:
At dinner,

ASK

: What's your favorite way to learn something new?

At bedtime, read Matthew 2:1-2.

Pray together and ask God to help you both know Jesus better.

TV Time: Join everyone's favorite Scottish Rapper, MC Haggis, as he shares his brilliant insights on knowledge.