Bible Story: Moses and the Burning Bush | Exodus 3
Main Point: I can live God's way by spending time with God.
Memory Verse: "God's way is perfect." 2 Samuel 22:31 (NIrV)
This month as we go on a great adventure together, we're learning God has great plans for each of us. We don't want to miss out on one moment of the great adventure God has planned for each of us. God's way is perfect, and He will show us the way!
In this week's lesson God uses a burning bush to speak to Moses about His plan to set His people free.
God's way is always perfect and Moses knew that, so when God told him to go on an adventure he did what God said. He was afraid, but the more he spent time with God and saw how God was preparing the way for him, Moses knew he could trust God and live God's way! We can live God's way by spending time with God, just like Moses!
Quest Collectible
Each weekend children visit Wonder! Clubhouse they get collectible cards to add to their poster. Once your child collects six cards and brings their poster back to Quest they can receive a special prize! Make sure your child keeps their poster in a place they can see it every day to help them remember what we are learning in Quest and to spend time with Jesus.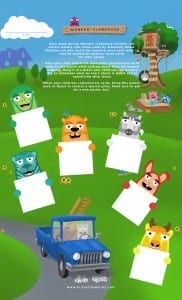 Memory Verse
Join us in helping your child learning 2 Samuel 22:31 (NIrV)! Children can recite the verse every week in October to earn a special Memory Verse take home to put on their poster.
God's way (point up)
is perfect. (two thumbs up)
2 Samuel 22:31, NIrV (open hands like a book)
Knowing this verse helps children remember that God's way is perfect! This means when we live by following what God tells us to do in the Bible, we're always making the right choice. Practice this verse with your child so they can recite it to their eGroup Leader this weekend in Quest!