Bible Story: David and Jonathan  |  1 Samuel 18:1-4
Main Point: God gives me good friends to have fun with!
Memory Verse: Therefore encourage one another and build each other up. – 1 Thessalonians 5:11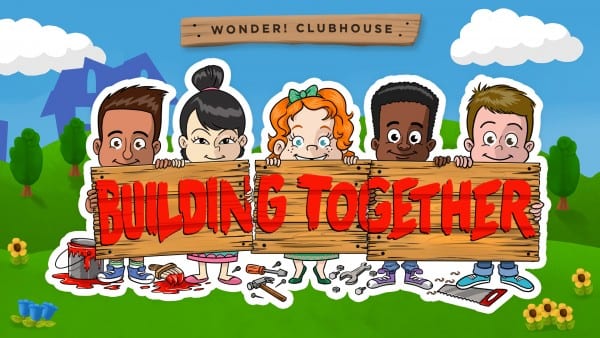 Lesson Overview
Friends do lots of fun things together. We eat together and play together. Friends take care of one another, help one another, and praise God together, too! God gave us a very precious gift when He gave us the gift of friendship. David and Jonathan's story is one of the greatest friendship stories every told and teaches us all what friendship is all about. When we have friends with whom we can do life, we are better together!
We heard a story from our neighbor, Carrie. It was about two friends named David and Jonathan! David and Jonathan did everything together, and were each other's favorite person. They shared everything they had with each other because they both wanted to honor God with their friendship. God is so great He gave David and Jonathan a friendship, and he gives us friendships, too! Just like David and Jonathan were friends and had fun, God gives us friends to have fun and play with, too!
Building Together
Each weekend children visit Quest during this 5 week series they can collect main point tools to add to their Building Together poster. These tools will help remind them God gives us friends to build up and encourage. Children can collect five tools and bring their poster back to Quest to receive a special prize.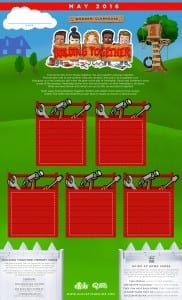 Memory Verse – 1 Thessalonians 5:11
Join us in helping your child learn our memory verse, 1 Thessalonians 5:11. Children can recite this verse every week throughout the series to earn bonus tools for their Building Together poster.
Therefore (point out)
encourage one another (two thumbs up)
and build each other up. (push palms up to sky)
1 Thessalonians 5:11 (open hands like a book)
Knowing this verse helps children remember to encourage their friends! Help your child practice this verse at home. Then ask them to Remember, Think, and Follow to review what we learned this weekend.
1 REMEMBER: Who was David's best friend? (Jonathan)
2 THINK: What kind of things did David and Jonathan's do together? (Laugh, eat, tell each other secrets.)
3 FOLLOW: Can we follow David and Jonathan's example by having fun with the friends God gave us? (Yes!)