Bible Story: David Helps Mephibosheth  | 1 Samuel 20:14-17, 2 Samuel 9:1-13
Main Point: God gives me good friends so we can help each other!
Memory Verse: Therefore encourage one another and build each other up. | 1 Thessalonians 5:11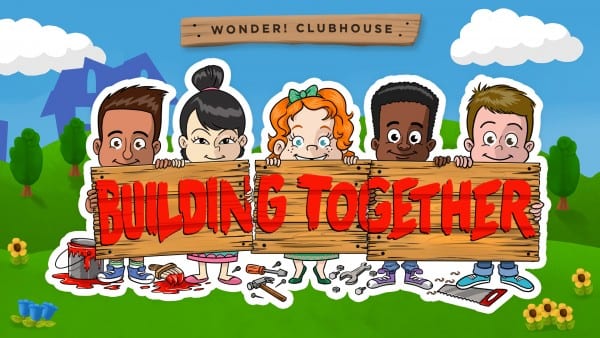 Lesson Overview
God gave us a very precious gift when He gave us the gift of friendship and David and Jonathan's story is one of the greatest friendship stories every told! It teaches us what friendship is all about and that our lives are better when we build them together with our friends!
We heard a story from our neighbor, Justin, about how Jonathan helped David run away from mean King Saul. Because Jonathan helped David, David told Jonathan he would take care of his family for the rest of his life! After many years, David became king, and after Jonathan died, David remembered his promise to take care of Jonathan's family. He sent someone to find Mephibosheth, Jonathan's son. David helped his friend Jonathan by taking care os his son! And just like David helped his friend, God gives us friends to help, too!
Building Together
Each weekend children visit Quest during this five week series they can collect main point tools to add to their Building Together poster. These tools will help remind them God gives us friends to build up and encourage. Children can collect five tools and bring their poster back to Quest to receive a special prize.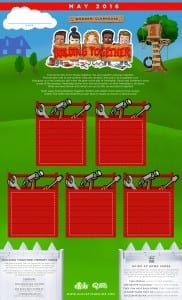 Memory Verse – 1 Thessalonians 5:11
Join us in helping your child learn our memory verse, 1 Thessalonians 5:11. Children can recite this verse every week throughout the series to earn bonus tools for their Building Together poster.
Therefore (point out)
encourage one another (two thumbs up)
and build each other up. (push palms up to sky)
1 Thessalonians 5:11 (open hands like a book)
Knowing this verse helps children remember to encourage their friends! Help your child practice this verse at home. Then ask them to Remember, Think, and Follow to review what we learned this weekend.
1 REMEMBER: Who was Jonathan's son? (Mephibosheth)
2 THINK: How did David help Jonathan's son? (David gave him a house and a place at his dinner table.)
3 FOLLOW: How can we follow David's example? (We can help each other!)