Monthly Focus: Who has a plan for you? (God has a plan for me.)
Bible Story: Jospeh In Jail  ●  Genesis 39-40
Main Point: I can trust God's plan even when it's hard.
Memory Verse: "Go and make disciples of all nations.' Matthew 28:19, NIV
We see other works of art every day that have a Maker and a plan. We pass them on the street, at work, and every Sunday they play around our feet. Are you thinking what I'm thinking? Yes, people! People are God's works of art. He is our maker. And, He has a plan for each of us, because He made us and loves us.
In this week's lesson, Joseph is put in jail for something he didn't do yet continues to trust that God has a plan for him.
Joseph was thrown in jail! Can you believe it? But you know what? Joseph chose to still trust God and believe that God had a plan for him. Joseph knew he could trust God's plan, even when it was hard. And so can we! 
Every day, we may face tough situations. God doesn't promise us everything will always be easy, but He does promise that He has great plans to do good things for us.
MAY MEMORY VERSE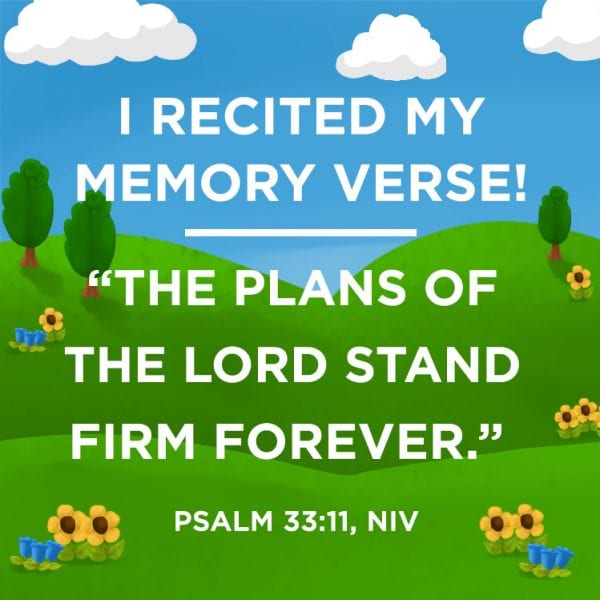 This month our Bible verse tells us God has a great plan for us!
Children can recite the verse every week in May to earn a special memory verse card. When your child receives a memory verse card, celebrate with them on learning their verse and put the card on their Quest poster.
"The plans (hold up fingers 1, 2, then 3)
of the Lord (point both fingers up)
stand firm forever." (stand feet wide with hands on hips)
Psalm 33:11 (open hands like a book)
Practice this verse together and encourage your child to recite it to their eGroup Leader this week in Quest.