MONTHLY FOCUS: God can help you.
VERSE FOCUS: "We have the Lord our God to help us." 2 Chronicles 32:8 (NLT)
BIBLE STORY: David Protects the Sheep | 1 Samuel 17:34-37
This month we are learning, "God can help you." No matter what situation we are in, we do not need to be afraid, because God can always help us.
We will learn the story, "David Protects the Sheep," in 1 Samuel 17:34-37. David was a shepherd and he took care of sheep by feeding them and making sure they were safe. One night, a big lion came and grabbed one of the sheep. David knew he needed to save the sheep, but he needed help. He knew God was with him and God would help him. God made David strong and helped David save the sheep!
We made a Bible story mat to help us remember God can help us.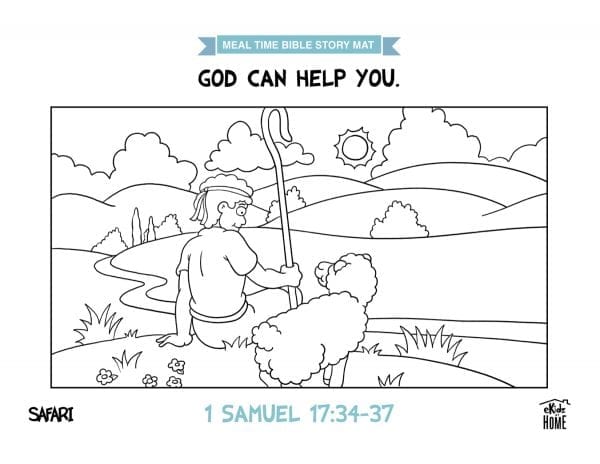 Place the Meal Time Bible Story Mat at the table where your toddler eats. Before each meal, point to the place mat and review the Bible story with your child:
What do you see in the picture? (David and his sheep)

Who helped David get his sheep back after a lion took it? (God helped David)
Even though David couldn't see God, David knew that God made him strong and helped him get his sheep back. Just like God helped David, God can help us, too!