Last week our church capitalized on the excitement that all kids have on Halloween. Kids love dressing up and getting candy!   To encourage people who wouldn't normally come to church several of our locations put on Fall Festivals including the Matthews Campus.  Matthews called their Fall Festival "Trunk or Treat".
People decorated their cars and handed out candy to hundreds of kids from the church and the community.  It was a great event.  Check out this encouraging story from one of the parents that calls Elevation Church home.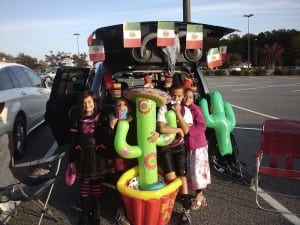 I'm not sure what exactly happens when I drop my children off to eKidz every weekend, but something within them is changing and now I have proof!   Last weekend my three daughters and I along with some friends decided to pool our resources and decorate our car for the Trunk or Treat event at Elevation Matthews. The plan was that while one of us was handing out candy the other would take the kids to the other trunks and then we would trade off.   This all went according to plan and we made our way through the parking lot and back to the car in one piece.  We really didn't expect sooo many kids and may have underestimated our candy to kid quota – but!  Then it happened.  My oldest daughter, Ava, opened her personal bag of candy (from trunk or treat) and started giving it to the kids.  Before you know it, the other three kids opened their bags too.   My  friends and I watched for a good 20-30 minutes as our kids gave out their own bag so we wouldn't have to turn kids away.
So, as I mentioned above, I'm not sure what's happening in eKidz but whatever it is – don't stop!!!  I'm so proud of their actions and thought maybe ya'll should know too.   You guys are doing an excellent job with my kids.
What we're doing in eKidz is believing that kids, when challenged, will step up to do what's right and challenging them with the word of God that they can make a difference.
It's an honor to serve the kids of Elevation Church.
The eKidz Team
-engaging kids and empowering families