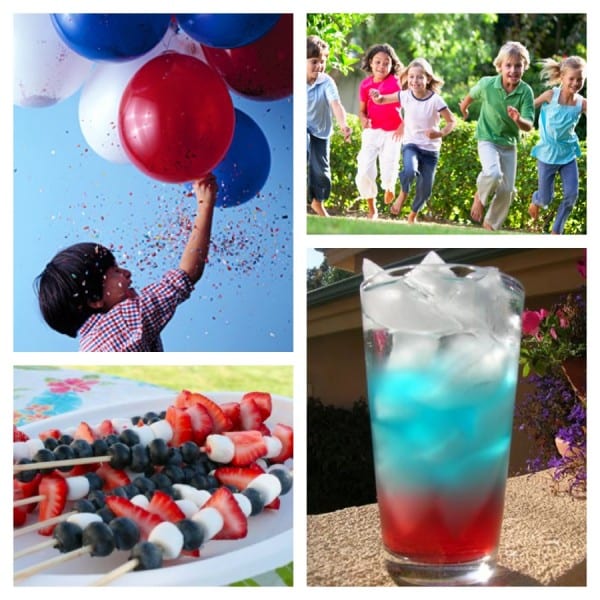 Happy 4th of July!  We hope you are able to enjoy the day with your family and have some family fun!  Here are FOUR things you can do with your family on this Fourth of July:
1. Fruit Sparklers – Create these patriotic, healthy, and delicious fruit snacks for your family! Gather the following ingredients: 24 blueberries, 24 strawberries, 3 bananas (cut into 8 pieces each), 24 cherries, 24 large marshmallows, 8 wooden skewers, and 8 pieces each of red, white, and blue ribbon, 1 foot in length.
Skewer fruit and marshmallows on wooden skewers in a red, white and blue pattern, using four of each item on a skewer.  Tie red, white, and blue ribbons to the bottom of the skewer.  Safety tip: When finished skewering fruit, break off sharp tips of skewers to prevent injury.
2. Patriotic Punch – This drink is sure to stump your kids!  When your kids ask you how the red, white, and blue liquids stay separate, tell them it's science!  (The sugar is the secret!  It keeps the liquid with the highest sugar content at the bottom, and the least sugar content on the top!)
Makes (1) 12 ounce drink:
3 ounces fruit punch
3 ounces blue Gatorade (not sugar-free)
3 ounces diet 7-Up or Sprite (must be sugar-free; so diet only)
ice
Fill glass 1/3 full with ice cubes. Pour fruit punch almost (but not quite) to top of ice cubes. Fill another 1/3 with ice cubes and slowly pour blue Gatorade almost to top of cubes. Fill final 1/3 ice cubes and slowly pour sugar-free Sprite. Add straw and voila!
3. Balloon Fireworks – A fun and colorful alternative to fireworks that can be set off by kids AND indoors!  To make a firework, pull a balloon over a plastic funnel.  Pour confetti in the balloon until it is a quarter full.  Inflate the balloon with a hand pump and tie a knot in the balloon.  Use a pen or sharpened pencil to pop the balloon.
4. Red, White, and Blue Tag – Give each player an item that is red, white, or blue.  (Buttons, tokens, or pieces of fabric work great.)  Challenge players to be the first to gather one red, one white, and one blue object by tagging other players.  The first one to collect one item of each color wins!