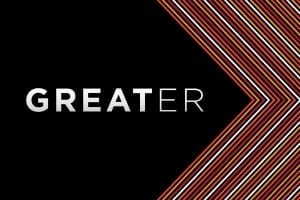 Last weekend, Dr. Barry Oldman, our resident archaeologist and Bible expert, introduced us to our Pastor's new book, Greater.
Over the next month, Dr. Oldman is going to be leading an Elevation eGroup that Dr. O likes to call his "Fantasti-group!" Together, Dr. Oldman and his group are going to be reading Greater, studying the Bible, and talking about what it means to them.
When the army ran out of water, Elisha told them to dig ditches. It might have seemed like a silly instruction at the time, but they had to dig ditches if they wanted water when it came.
Alex is dreaming big and searching for God's greater plan for his life. He needs to dig some ditches too. But as Dr. Oldman said, it's not enough to just dream big, you need to start small and take the steps necessary to make your big dreams come true.
And we can all agree, it is a very good thing that Dr. Oldman followed God's greater plan for his life and became an archaeologist and not a worship leader.