A few weeks ago we launched two new campuses.  In order to be able to pull this off we asked hundreds of volunteers to shift from their current campus and join the launch team of one of the new campuses.  Many of those volunteers had kids.  And for many of those kids they were going to have to make sacrifices too.
Here's the story of one eight year old that saw that sacrifice as an opportunity to be used by God:
 "Anagrace is 8 years old and she has the sweetest heart of any little girl I've ever met," Chelsea Prevette says with a smile as she describes her daughter. "I'm sure most moms would say that about their child, but she truly does think of others before herself." For the past couple years, Chelsea and her husband Justin have served at the Uptown Campus. When it was announced that Elevation Rock Hill would be opening on September 11th, the Prevette family felt that God was calling them to take an active role in the launch.
"She (Anagrace) was very sad to leave Uptown because she had made friends and bonded with the eKidz workers there," Chelsea recalls. "But, we explained to her that we were coming to Rock Hill so that we could invite more people to learn about Jesus."  Together, over the next few weeks, the family began to think of people they could invite.
"She immediately became very excited that she could invite her cousins, who live in Rock Hill, to our new campus.  The thought of reaching others is what helped her get over the sadness of leaving Uptown." 
"One afternoon I walked into Anagrace's room and found a stack of invitations and welcome cards on her floor.  Without me knowing, she had been hard at work creating personalized notes to children that she hoped would attend eKidz at Rock Hill!  I am so proud of my world-changer!"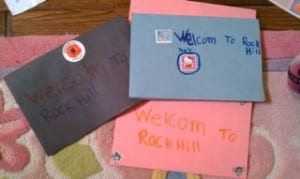 We believe that kids are eager to make a difference for God.  As parents & role models it's our responsibility to give them that opportunity.  When we do, we shouldn't be surprised when they step up and lead the way!
The eKidz Team
– Engaging Kids and Empowering Families