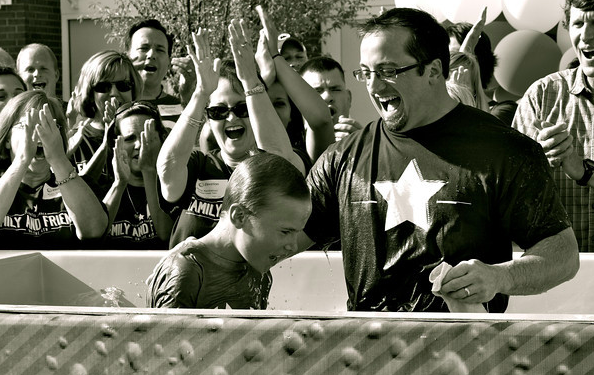 At Elevation Church, we celebrate baptisms!
Baptism signifies what has already happened to us spiritually. Our old identity as a sinner is gone, and we rise with a new identity in Christ. As Pastor Steven says, "baptism is an outward expression of an inward decision for Christ."
During the month of July, eKidz at each Elevation location will be holding an eKidz Baptism Celebration!  If your child has accepted Christ and is interested in baptism, we would love to baptize him or her and share this special decision with your family as your child goes public with their faith!
To ensure that baptism is a meaningful declaration of faith by your child, all children 5th grade and younger need to go through a baptism interview.   This interview will help ensure that your child is ready for baptism.
To sign your child up for a baptism interview or for more information about eKidz baptisms, please contact the eKidz Director at the Elevation location you attend:
Blakeney: Jessi Welch, jwelch@elevationchurch.org
Matthews: Kelly Draddy, kdraddy@elevationchurch.org
Providence: Meredith Lamb, mlamb@elevationchurch.org
Rock Hill: Jessica Bealer, jbealer@elevationchurch.org
University: Barbara Urch, burch@elevationchurch.org
Uptown: Brandon Hibbard, bhibbard@elevationchurch.org
For information about baptism, check out these sermons from Pastor Steven from the Follow series: Part 1: I Have Decided and Part 2: Full Circle.