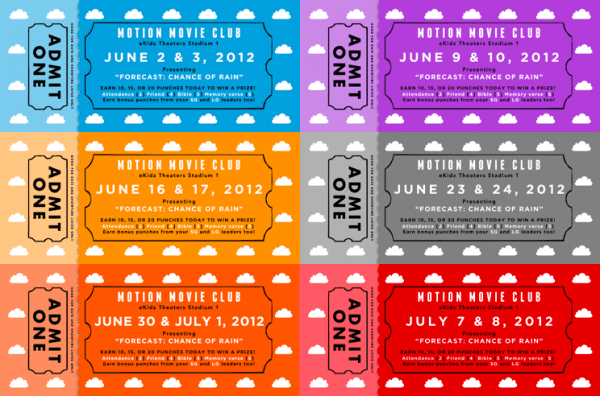 If these movie tickets look familiar, than you are a parent of a Motion child!  During our Forecast: Chance of Rain Series, we've been having a lot of fun as kids have been collecting a different movie ticket each weekend in eKidz.  But it's more than just a movie ticket … it's a chance to win prizes!
Each weekend kids can earn punches for things such as attending Motion (2 punches), bringing a friend to church (4 punches), bringing a Bible (5 punches), or memorizing the Bible verse (5 punches).
At the end of the worship experience each weekend, kids can choose to redeem their ticket for a prize from the concession stand:
10 PUNCHES = a box of candy
15 PUNCHES = Red Box coupon
20 PUNCHES = Movie Gift Pack
OR
kids can save their movie tickets and earn a total of 50 punches to win the GRAND PRIZE – a private movie party with eKidz for your child and a friend!
Ask your child what he or she is doing with their movie tickets –  are they trading them in each week or trying to earn a total of 50 punches?  If your child is trying to win the movie party, then MARK YOUR CALENDARS.  On August 11, we will be throwing a private movie party for all the kids (and their friends) who earned 50 punches!
It's not too late to for your child to join the fun!  Make sure to attend church each weekend – that's an easy 2 punches!  Encourage your child to bring his or her Bible to church.  Help your child earn 5 punches by learning the memory verse together as a family:
I appeal to you, brothers and sisters,in the name of our Lord Jesus Christ,
that all of you agree with one another in what you say and that there be
no divisions among you, but that you be perfectly united in mind and thought.
1 Corinthians 1:10
See you this weekend as we learn more about unity from the movie Night at the Museum!