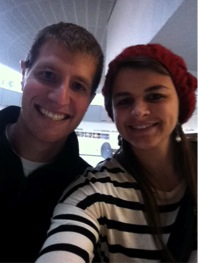 My name is Cassie Palmer and I am an Associate Children's Director at the Blakeney Campus of Elevation Church. I am 25 years old, and was born and raised right here in Charlotte. I am newly engaged to Ben Buchanan (on December 26 – during a visit to New York City!) Ben serves at the Blakeney Campus as an Operations Coordinator.
Growing up, I was not raised in the church and was not taught Biblical truths as a child. So when I became a believer, I discovered a passion to help kids know Christ from an early age. It is for that reason I decided to serve in eKidz when I began volunteering. I knew that I wanted to be apart of the spiritual growth of the children at Elevation, and consider it my passion to teach and influence children to live according to what the Bible says.
Being a part of the eKidz staff is a privilege and I am honored to serve the families of Elevation Church. My primary role in eKidz is to oversee Quest (3 – Kindergarten) large group. We couple Bible teaching videos with age-appropriate worship music to teach Quest kids simple Biblical truths and how to worship God. We teach them how to pray with fun hand motions, and they even have the opportunity to give an offering to God each week!
I believe the time children spend in Quest is helping to build their spiritual foundation, and empowering them to live out what they are learning. We're committed to creating the best environment possible to engage preschoolers so they can grow in their faith as they explore who God is. And as future parents, Ben and I are excited about the opportunity we will have to raise our children at Elevation to know and love God!