Bible Story: David and Goliath | 1 Samuel 17:17-52
Main Point: I Am Able!
Memory Verse: "This is my command — be strong and courageous! Do not be afraid." Joshua 1:9a
Lesson Overview: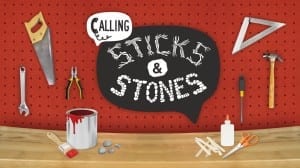 We joined our friends Sticks and Stones for another episode of "Calling Sticks and Stones." See how your child discovered how to embrace God's calling on their lives by using their special gifts, just like David!
Quest children learned "I Am Able!" from the Bible story about David defeating Goliath. Just like David was able to beat Goliath with his special gifts, children learned that God gives each of us special gifts, too, and we are able to do great things for God!
January Memory Verse
God commands us not to be afraid, but to to be strong and courageous because He has called us to do great things! Help your child learn our January memory verse by practicing at home, at the dinner table, or before bedtime.
"This is my command (hold hands out like a book)—
be strong (make muscles) 
and courageous! (hands on hip like a superhero) 
Do not (cross hands on top of each other) 
be afraid. (cover eyes)" 
Joshua 1:9a