Bible Story: Jesus and Peter Walking on Water | Matthew 14:22-33
Main Point: I Will Pray When I Am Afraid!
Memory Verse: "May these words of my mouth…be pleasing to you O Lord." Psalm 19:14 (NLT)
Lesson Overview: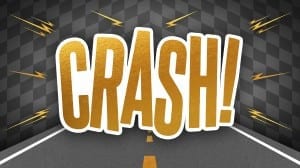 Get ready . . . get set . . . go! Over the next six weeks, Quest will join Guy Handsome and his world-famous racing team as they work on the Anything-Mobile race car and learn how the Bible teaches us to always say and do good things.
This weekend, we traveled to San Francisco with Guy and his racing team for their very first race of the season! Kimmy, a member of Guy's racing team, was scared of all the loud noises from the street race and was afraid to work on the Anything-Mobile. To help Kimmy, Olivia, the racing team captain, shared a Bible story about Jesus and Peter walking on water. We learned "I Will Pray When I Am Afraid!" Kimmy learned she can call out to God when she's scared, just like Peter did during the storm!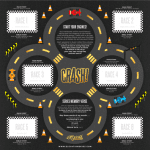 Start Your Engines!
Each weekend in Quest, children will collect the winning racing flag to glue to their racing poster. Make sure your child collects at least four racing flags and brings their racing poster back to Quest on MARCH 15 or 16 for their very own racing flag pennant pencil!
Here is the winning flag from the first race.
Series Memory Verse
Join us in teaching your child our series memory verse. When your child knows what the Bible says, they will be able to know how to do good and say good things! On March 15/16, your child can recite the memory verse for a special racing prize.
May these words of my mouth … (point to mouth)
be pleasing to you (two thumbs up)
O Lord. (point up)
Psalm 19:14 (NLT)