Bible Story: Saul's Conversion | Acts 9:1-28
Main Point: I Will Be Nice When Others Are Mean!
Memory Verse: "May these words of my mouth…be pleasing to you O Lord." Psalm 19:14 (NLT)
Lesson Overview:
This weekend, we joined Guy Handsome and his racing team for their second race of the season held in South America at the Amazon River! Before the race, Kimmy accidentally spilled Guy's slushy, and Guy got really mad! He said lots of mean things to Kimmy and hurt her feelings.

Kimmy wanted to be mean to Guy, but Olivia reminded Kimmy about the Bible story of Saul. Saul was being mean to Jesus' friends. Jesus told Ananias to go heal Saul, but Ananias was afraid Saul might hurt him. But because Ananias loved Jesus, he was nice to Saul and healed him. When others are mean to us, we should be nice to them. We learned "I Will Be Nice When Others Are Mean!"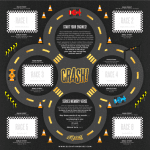 Start Your Engines!
Each weekend in Quest, children will collect the winning racing flag to glue to their racing poster. Make sure your child collects at least four racing flags and brings their racing poster back to Quest on MARCH 15 or 16 for their very own racing flag pennant pencil!
Here is the winning flag from the second race.
Series Memory Verse
When your child knows what the Bible says, they will be able to know how to do good and say good things! Join us in teaching your child our series memory verse. On March 15/16, your child can recite the memory verse for a special racing prize.
May these words of my mouth … (point to mouth)
be pleasing to you (two thumbs up)
O Lord. (point up)
Psalm 19:14 (NLT)