Bible Story: Jacob Deceives Isaac | Genesis 27
Main Point: I Will Tell The Truth!
Memory Verse: "May these words of my mouth…be pleasing to you O Lord." Psalm 19:14 (NLT)
Lesson Overview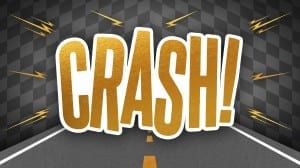 Guy Handsome wins again! This weekend, we added Guy's third trophy to his trophy case after he won the race in Egypt at the Pyramids!
Before the race, Kimmy was assigned to put four wheels on the Anything-Mobile, Guy's race car, but she accidentally lost one of the tires! Instead of telling Guy the truth, she decided to tell Guy all four tires were ready to go on the Anything-Mobile.

Olivia found out Kimmy was going to lie to Guy, so Olivia told her the Bible story of Jacob lying to his father, Isaac. Just like Kimmy learned "I Will Tell The Truth!" from our Bible story, children learned it's important to tell the truth because lying hurts our family and friends.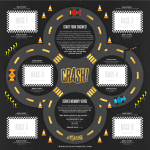 Start Your Engines!
Each weekend in Quest, children will collect the winning racing flag to glue to their racing poster. Make sure your child collects at least four racing flags and brings their racing poster back to Quest on MARCH 15 or 16 for their very own racing flag pennant pencil!
Here is the winning flag from the third race.
Does your child need a racing poster? Ask the Quest leader at your campus this weekend when you bring your child to eKidz.
Series Memory Verse
During our time at Guy Handsome's Racing Headquarters, Quest children are learning a very special Bible verse. It's a Bible verse which will help them learn to always say and do good things. On March 15/16, your child can recite the memory verse for a special racing prize.
May these words of my mouth … (point to mouth)
be pleasing to you (two thumbs up)
O Lord. (point up)
Psalm 19:14 (NLT)