Bible Story: Paul's Shipwreck | Acts 27
Main Point: I Will Not Give Up When Things Go Wrong!
Memory Verse: "May these words of my mouth…be pleasing to you O Lord." Psalm 19:14 (NLT)
Lesson Overview: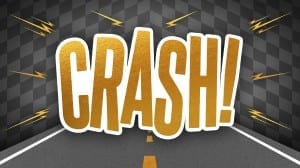 Start your engines and 3 … 2 … 1 … GO! This weekend, we joined Guy Handsome and his racing team in China and watched as Guy won his fourth race on the Great Wall of China!
Kimmy was preparing the Anything-Mobile, Guy's race car, for the race when things started to go wrong. Guy became sick, Olivia arrived late, and Kimmy got tangled up in some rope! Just when Kimmy wanted to give up, Olivia shared a Bible story about a man named Paul. Paul was sailing on a boat in the middle of the ocean when a really bad storm came. Although everyone else on the boat wanted to jump overboard, Paul didn't give up and told the men to hold on. Just like Paul didn't give up when things went wrong, Kimmy learned "I Will Not Give Up When Things Go Wrong!"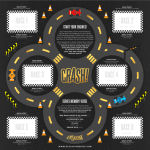 Start Your Engines!
Each weekend in Quest, children will collect the winning racing flag to glue to their racing poster. Make sure your child collects at least four racing flags and brings their racing poster back to Quest on MARCH 15 or 16 for their very own racing flag pennant pencil!
Here is the winning flag from the fourth race.

Does your child need a racing poster? Ask the Quest leader at your campus this weekend when you bring your child to eKidz.
Series Memory Verse
During our time at Guy Handsome's Racing Headquarters, Quest children are learning a very special Bible verse. It's a Bible verse which will help them learn to always say and do good things. On March 15/16, your child can recite the memory verse for a special racing prize.
May these words of my mouth … (point to mouth)
be pleasing to you (two thumbs up)
O Lord. (point up)
Psalm 19:14 (NLT)