Bible Story: Jonathan Shares With David | 1 Samuel 18:1-4
Main Point: I Will Share My Things!
Memory Verse: "May these words of my mouth…be pleasing to you O Lord." Psalm 19:14 (NLT)
Lesson Overview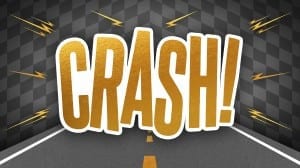 Ready, set, go! Guy has been driving his way to victory this racing season and this weekend was no exception. Guy and his racing team traveled across the United States of America to the Grand Canyon for his fifth race.

Before the race began, Guy asked Kimmy if he could borrow her map of the Grand Canyon, but Kimmy didn't want to share her map. Guy needed the map to help him know which path to take during the race. Olivia wanted to help Guy win, so she shared a Bible story about a man named Jonathan. Jonathan was a prince who shared all of his things with his friend, David. Just like Jonathan shared with his friend David, Kimmy learned she should share her map with Guy. Children learned " I Will Share My Things!" and because Kimmy shared her map with Guy, he took first place in the race and won his fifth trophy of the season!
Each weekend in Quest, children will collect the winning racing flag to glue to their racing poster. Make sure your child collects at least four racing flags and brings their racing poster back to Quest on MARCH 15 or 16 for their very own racing flag pennant pencil!
Here is the winning flag from the fifth race.
Does your child need a racing poster? Ask the Quest leader at your campus this weekend when you bring your child to eKidz.
Series Memory Verse
Throughout our series, children have been learning a special Bible verse about how to do and say good things. At home continue working with your child to learn this verse. Any child who can recite this verse THIS WEEKEND (March 15 or 16) will get a special racing prize! 
May these words of my mouth … (point to mouth)
be pleasing to you (two thumbs up)
O Lord. (point up)
Psalm 19:14 (NLT)