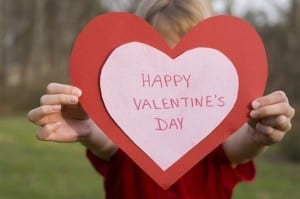 "Do I have to give a valentine to everybody?"
If you have kids, you've probably been asked this question.  After all, why do they have to make a card for the kid that picks on them everyday in the cafeteria?
As parents, you and I know that this rule is in place so that no one feels left out. While I am sure that you will explain this to your child, why don't we make an effort to take it one step further?  Let's teach our kids what God says about love.  It will give some new meaning to this Valentine's Day.
In The Message (a paraphrase of the Bible) it says,
1 John 4:7-10 My beloved friends, let us continue to love each other since love comes from God. Everyone who loves is born of God and experiences a relationship with God. The person who refuses to love doesn't know the first thing about God, because God is love—so you can't know him if you don't love. This is how God showed his love for us: God sent his only Son into the world so we might live through him. This is the kind of love we are talking about—not that we once upon a time loved God, but that he loved us and sent his Son as a sacrifice to clear away our sins and the damage they've done to our relationship with God.
Tell your kids that the best way to SHARE God's love with others is to SHOW God's love to others.