Use these resources to help your child grow in their faith at home this week!

How do you face your struggles?  ●  Ephesians 6:10-11
As a family, discuss a few questions together after your child watches this week's episode.
Question #1: How do you face your struggles?
Question #2: Read Ephesians 6:10-11. God's truth, righteousness, peace, faith, and salvation are compared to armor in this Scripture. How do you think those things are like armor? What can they protect you from?
Question #3: How does it make you feel to know that God has provided you with gear to help you fight evil using His power? Which piece of gear do you think will help you the most with whatever you're living through right now: truth, righteousness (which just means making right and godly choices), peace, faith, or salvation?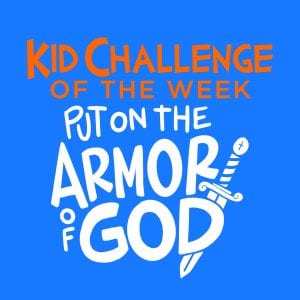 This month we're learning that there are supernatural battles happening all around us. Just because you can't always see the battles going on around you doesn't mean you can't do anything about it. Prepare yourself to face them with the armor of God!
Belt of truth: Remind yourself everyday of the truth of what God says about you. Say it to yourself in the mirror in the morning!
Breastplate of righteousness: God calls you righteous when you place your faith in Jesus. When you feel like you've made a mistake, pray that God will remind you that He loves you and forgives you and calls you righteous.
Shoes of peace: When you feel worried, pray that God will give you peace. Remind yourself that God is always in control and that He always wins.
Shield of faith: When things don't go your way, remember that God is going to work it all out. Just keep your faith and keep asking God to guide you.
Helmet of salvation: The Bible tells us to guard our hearts and our minds. Each day, spend time doing things that fill your heart with God's love.
Sword of the Spirit: This is the word of God. When the devil tries to fill your head with lies, go to the Bible and use the truth of God's word to shut him down.
When you put on the armor of God, you'll be ready to take on the day. The Bible says we are more than a conqueror through Jesus Christ, and this armor will help you do just that.
For more information about eKidz Online, visit our eKidz Online YouTube page. You can catch us during any of the Elevation Church live broadcasts, and those times can be found HERE.

Main Point: God hears me and gives me what I need.
Bible Story: Hagar ● Genesis 21:14-20
As a family, watch this week's video and then discuss a few questions together. 
Question #1: Who was today's Bible story about? (Hagar, Hagar's son)
Question #2: What happened during the Bible story? (Hagar and her son were walking in the desert. They were feeling very tired and hot, but they didn't have any water. God heard Hagar's son crying, and an angel told Hagar not to be afraid. Then God showed Hagar where to get water.)
Question #3: What does this story teach us? (God hears us and gives us what we need.)
Family Activity: Let It Rain

WHAT YOU NEED: activity page, construction paper, scissors, glue sticks, six-inch circle punch or die-cut, bubble wrap, paper plates, blue paint, paintbrushes, water, and wet wipes
WHAT YOU DO:
Before the Activity: Print off the activity page. Cut construction paper into six-inch circles then cut in half, one semi-circle per child. Cut bubble wrap into 3" x 6" pieces. Pour blue paint onto plates.
During the Activity: Encourage your child to glue the construction paper semi-circle to the top of the umbrella handle on the activity page. Place the label on the semi-circle. Have your child paint the bubble side of the bubble wrap with blue paint. Then flip over the bubble wrap and press it down on the paper on the left and right side of the umbrella in the blank spaces.
After the Activity: Talk about how God heard Hagar and her son and gave them what they needed.
WHAT YOU SAY:
Before the Activity: "In our story today, we learned that God always hears us and gives us what we need, just like He did with Hagar and her son."
During the Activity: "Do you remember what we sat under to hear our Bible story? (Pause.) That's right, an umbrella. When do you need an umbrella? (Pause.) Yes, when it rains. Let's make an umbrella then make it rain on our paper. Take a semi-circle, that's half of a circle, and glue it to your paper on the top of the handle like this. (Demonstrate.) Good job! Now, add your label to the umbrella. (Pause.) Let's add some rain. Paint the bubble wrap on the bumpy side. (Pause.) Now, turn it over and stamp your paper with it, right here. (Point.) Great! Pick it up and stamp the other side of the umbrella handle. (Pause.) Great job!"
After the Activity: "Hagar and her son were in the hot, hot desert, and they needed water. They cried out, and God heard them. He gave them the water they needed. God always hears us and gives us what we need. Who's got it?" (God's got it.)

We're learning… I can trust God.
Bible Story: Noah ● Genesis 6-9
This month, we're learning, "I can trust God." We will learn the story, "Noah's Ark," in Genesis 6-9. When God told Noah to build an ark, Noah trusted God and obeyed His instructions. When a huge flood came, Noah and everyone on the boat were safe. When the water dried up, God put a rainbow in the sky as a sign of His promise to never flood the earth again. We can trust God and obey His Word — just like Noah did!
TODDLER ACTIVITIES
Choose an activity to complete with your toddler to learn that we can trust God!
Bible Story Activity
WHAT YOU NEED: Bible (Use a children's Bible if you have one or download the Bible App for Kids and watch "Two by Two.") 
WHAT YOU SAY: "I love reading the Bible and spending time with Jesus. Let's read our Bible story together right now!"
WHAT YOU DO: Read "Noah" — Genesis 6:13-14, 7:1-5, 8:15-19, 9:12-16 from the Bible.
Memory Verse Activity: Psalm 25:2a
WHAT YOU SAY: "Our memory verse helps us remember that we can trust God. Let's practice memorizing it together!"
WHAT YOU DO: 
Have your toddler say Psalm 25:2a three times. Say it in a loud voice, a whisper voice, and a silly voice. Do the motions as you say the verse. Say the verse, line by line, encouraging your toddler to repeat and complete the actions after you.


     

"I (point to self)


     

trust in you (point up)


     

my God!" (give yourself a hug)


     

Psalm 25:2a, NLT (open hands like a book)