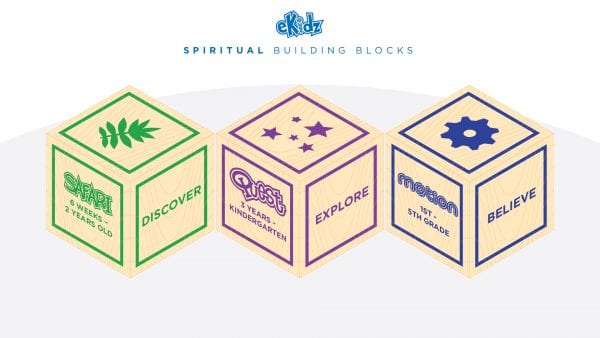 In eKidz our mission is to partner with parents to develop their kids' faith — to walk alongside families strategically at each stage of their children's development. "Spiritual Building Blocks" guide our decisions as we choose the best ways to teach children about Jesus and equip families to raise godly young men and women.
Children six weeks through two years old are part of our Safari ministry. Our key word for this age group is "DISCOVER." In Safari, we want to help children:
DISCOVER the Bible is God's book — and that it's true.

DISCOVER an expression of worship through song and prayer.

DISCOVER a love for God through this phase of creativity and wonder.
In Quest, our ministry for children three years old through kindergarten, we want children to "EXPLORE" the world around them and learn who God is. We want to help Quest children:
EXPLORE the Bible and how it applies to their lives.

EXPLORE how prayer and worship connect them with God.

EXPLORE ways to tell others about their relationship with God.
Motion kids are in a life stage where they can do more than just learn facts and make basic connections; they're able to internalize what they're learning at a deeper level. In Motion, our prayer is that first through fifth graders will "BELIEVE." We want all of our Motion kids to:
BELIEVE the Bible is God's Word, and it's powerful and relevant.

BELIEVE in Jesus as their personal Savior.

BELIEVE in daily disciplines as a way to strengthen their relationship with God.
These building blocks are what we use to develop children's understanding of God from basic knowledge to personal belief. We believe God can do great things through our eKidz ministry when we partner with parents to help children DISCOVER who God is, EXPLORE His Word and His love for us, and BELIEVE in Jesus as their personal Savior.