Series Virtue: Wisdom – Finding out what you should do and doing it.
Series Memory Verse: Choose my instruction instead of silver, knowledge rather than choice gold. Proverbs 8:10
Main Point: If you want to be wise, talk to God.
Bible Story: Solomon Chose Wisdom, 1 Kings 3:4-15
Bonus Verses: Proverbs 8:10-11, James 1:5
During this series, your kids are learning about making choices to be wise in what they say, wise with their friends, and wise about how they act. Every choice is important and has an effect on their lives. If they want to make the wise choice, they can talk to God. King Solomon chose to ask God for wisdom. God gave King Solomon wisdom, and King Solomon followed God's instructions. Wisdom isn't just knowing what God wants them to do, it's making the choice to do it! When they have to make a choice between what is wise and what is not, they can think about what God wants them to do and then do it. It may not always be the easy way, but it's the wise way.
Prayer Time: Use this as a guide for prayer time this week: "Dear God, please give us wisdom. We want to do what is right according to Your Word. This week, help us to make wise choices and to follow Your instructions for our lives. We love You! In Jesus' name, Amen!"
The Game of Choices Bring It! Challenge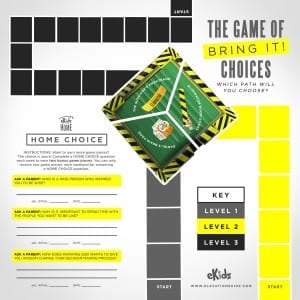 We are giving your child a choice for the Bring It! Challenge through The Game of Bring It! Choices. Each weekend by "bringing it" your child will get closer to reaching the Eliminator and the prize for the path they choose. They can fill up any path by collecting game board pieces for attending Motion, bringing their Bible, saying the memory verse, bringing a friend and for completing a Home Choice question. Help your child remember to bring back their game board every week so they can continue to earn game pieces. Prizes will be awarded the last weekend of the series, March 28/29.