Series Virtue: Wisdom – Finding out what you should do and doing it.
Series Memory Verse: Choose my instruction instead of silver, knowledge rather than choice gold. Proverbs 8:10
Main Point: If you want to be wise, think before you speak.
Bible Story: Nehemiah Spoke Wisely, Nehemiah 2:1-9
Bonus Verse: Proverbs 12:18
During this series, we're learning how to make wise choices. One of the most important areas where we need wisdom is our speech and if we want t one wise, we need to think before we speak. Nehemiah went before the king and had a choice of how he would speak – he could have grumbled, complained, or gotten angry, but instead, he chose to speak respectfully to the king and keep his emotions in check. In our lives, we always have a choice in how we speak as well and we need to remember Nehemiah's example and think before we speak.
Prayer Time: Use this as a guide for prayer time this week: "Dear God, please give us wisdom in how we speak. Help us to think before we speak and honor you in the words that we say. We love you. In Jesus' name, amen!"
The Game of Choices Bring It! Challenge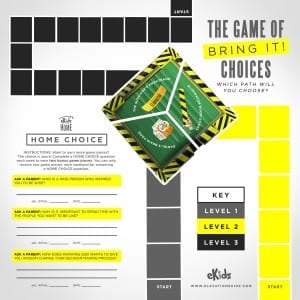 We are giving your child a choice for the Bring It! Challenge through The Game of Bring It! Choices. Each weekend by "bringing it" your child will get closer to reaching the Eliminator and the prize for the path they choose. They can fill up any path by collecting game board pieces for attending Motion, bringing their Bible, saying the memory verse, bringing a friend, and for completing a Home Choice question. Help your child remember to bring back their game board every week so they can continue to earn game pieces. Prizes will be awarded the last weekend of the series, March 28/29.