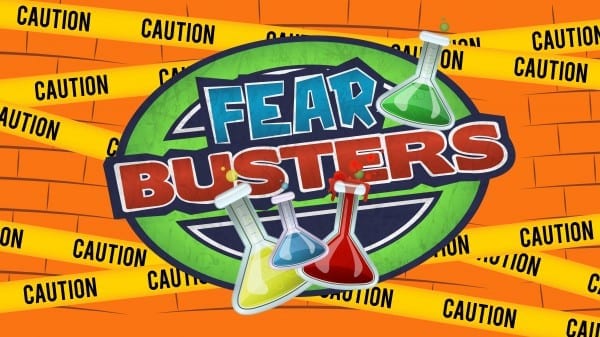 Bible Story: A Sick Boy Made Well | John 4:46-53
Main Point: When I'm Scared, Jesus Can Heal!
Memory Verse: "I prayed to the Lord and He answered me. He freed me from all my fears." Psalm 34:4
Lesson Overview
It can be scary when we get a boo-boo, but we've been learning we can BUST our fears and the fears of our monster friends with God's Word!
This weekend, our friend MiMi Monster was really scared because she got a boo-boo on her head. She didn't want to go to the doctor and was afraid her boo-boo would never go away either. Agent Lou True got there just in time to help bust her fear by reading a story from the Bible! He shared a story about a boy who was really sick. The boy's father was scared his son might die, but he knew Jesus could heal his son! When he heard Jesus was nearby, he hurried to see Jesus. Jesus told the father his son would be healed. The father believed Jesus and ran home. When he got home, the father saw his son was healed! We learned when we're scared, like MiMi Monster or like the father, we don't have to be afraid because Jesus can heal!
FearBusted Box
To help our FearBuster friends bust their fears, Quest children received a FearBusted Box to collect truths from God's word to know what to do when they are scared. Each weekend children will collect another truth to put in their FearBusted Box!
In this week's truth bag was a band aid! MiMi was afraid the boo-boo on her head wouldn't heal, but we helped her BUST her fear with a story from the Bible. MiMi learned she shouldn't have been scared of going to the doctor and her boo-boo not healing – Jesus can heal!  Use the truth card to start a discussion with your child about their fears and to review the Bible story and main point.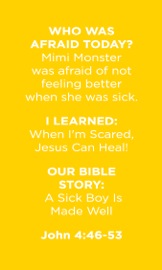 Ask, "When we are scared and get a boo-boo, who can heal us?"
Memory Verse
Our memory verse during FearBusters teaches us that God can free us from all our fears. Each weekend children can recite the memory verse for a ROAR-some monster prize in Quest.
I prayed (pretend to pray)
to the Lord (point up),
and He answered me. (cup hand to ear)
He freed me (wave arms and smile)
from all my fears. (make scared face)
Psalm 34:4 (hold up 4 fingers)
Has your child learned the memory verse? Post a video on Facebook, Twitter, or Instagram of your child saying the verse with the hashtag #FearBusters!