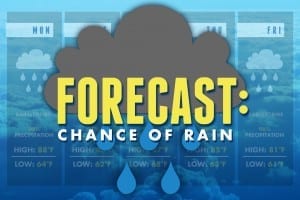 Summer is here and this weekend we start a brand new series in Motion (1st – 5th grade) called Forecast: Chance of Rain.  What would you do if it rained nonstop all summer long? You'd stay inside and watch movies! Join us as we watch some of our favorite movies and see what we can learn about unity!
And what movie experience is complete without a movie ticket?  Each weekend kids will receive a movie ticket, but it's more than just a movie ticket … it's a chance to win prizes each weekend!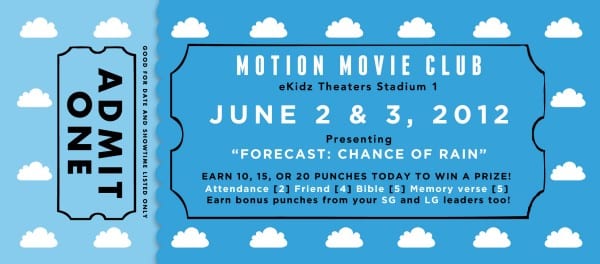 Kids will earn punches on their movie tickets each weekend to win a prize.  Punches can be earned for things such as attending Motion, bringing a friend, bringing a Bible, or memorizing the Bible verse.
10 PUNCHES = a box of candy
15 PUNCHES = Red Box coupon
20 PUNCHES = Movie Gift Pack
Kids can redeem their ticket for a prize each weekend OR can save their movie tickets and earn 50 punches to win the GRAND PRIZE – a private movie party with eKidz for the child and a friend!
We are having a lot of fun this summer – your child is not going to want to miss it!