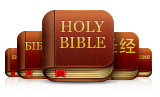 Last weekend our Campus Pastors & Ministry Leaders preached at all of our campuses on how to train in godliness (I had the privilege of being at our Providence campus and had a great time!).
One of the things that we talked about was reading our Bible. I found a couple of short reading plans on YouVersion designed specifically for parents.  Check them out below.
7 Days
"This is not what I signed on for!" Being a parent can be a lot harder than we thought it would be. What does the Bible say about raising our children the way God desires?
31 Days
Next to the precious relationship we have with our God, the relationships we have in our homes are the most valuable things in our lives. These devotions, one for each day of the month, will bring you encouragement and hope for your family life. May they lead you to love and prize your family members more than ever and give glory to the One who loves to call himself your Father.