I wanted to hijack the eKidz Blog today to brag on one of the secret weapons of Elevation Church.  From the very beginning of our church there has been a hard-working, loyal, self-sacrificing leader with a passion to serve kids who has unswervingly dedicated herself to making Pastor Steven's vision for eKidz come to life.  She's now on staff, but before she ever came on staff she was all of these things as one of our most valuable volunteers.  Her name is Jessi Welch.  Jessi is the eKidz director at our Blakeney location and as the veteran staff member in our eKidz department she is foundational to everything we do in preparing for the eKidz experience at all of our locations!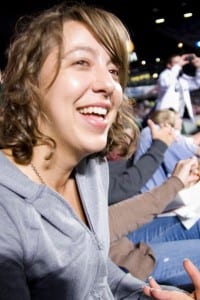 The reason I chose to write about her today is because on this weekend 6 years ago, on October 29, 2005, Jessi first appeared in the storyline of Elevation Church.
The Core Team of Elevation Church was serving at a Fall Festival event put on by the Town of Matthews called, Not So Spooky Halloween.  During the event Larry Brey noticed Jessi wearing an Ohio University baseball cap sitting on the steps of the Matthews Library.  He went over to have a conversation with her and the rest is history.  The next week Jessi started attending Elevation Church information meetings.  Before too long she was volunteering as a greeter (back in the days when we had more greeters than guests).  And then we discovered her gifts working with kids so she became an invaluable team member in eKidz.
When it came time to hire an eKidz director Jessi was the obvious choice and she joined our staff in February 2008 and she has been a great staff member ever since.  She loves Jesus, she loves our church, she loves working with kids and we are much better off with her on the team.
If your kids have been impacted through eKidz at Elevation Church you should take a moment and send Jessi a message (jwelch@elevationchurch.org) to thank her for her sacrifice and commitment.
An if you ever wondered whether God has a plan for your life let Jessi's story inspire you – you may just be sitting on the library steps today but you never know where God might be using you in six years.
John Bishop
Family Pastor