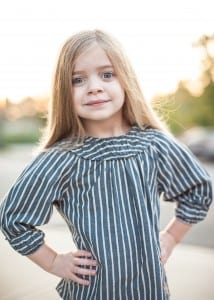 Pastor Steven and Holly have taught us so much about speaking potential into our kids.  Here's how it plays out for our family.
I compliment my children, a lot. I probably compliment them more so than is necessary. My husband often tells me that my three children believe they are invincible. I think he's trying to make a point, but I just smile and continue to dish out the compliments.
I'm not saying to forgo discipline. I don't tell my daughter she's beautiful in the middle of a roaring temper tantrum. Bad behavior equals punishment in our house. However, when my children are excelling, I want them to know that I notice. I want them to feel that the accomplishment just achieved is simply the beginning of a life full of potential successes. I want them to look at the ugly world before them and know that God created them for a purpose: to be who He made them to be, to accomplish His works, and to further His kingdom. The HOW is still up in the air.
Micah, my ten year old, wants to be an Olympic swimmer. Isaac, my middle child, wants to be a history teacher. Layla, my five year-old daughter, wants to be a singing princess at Disneyworld. I'm sure their aspirations will change a hundred times before adulthood. However, it's my job, as their parent, to be their supporter and their biggest cheerleader.
I told my daughter this week that she has the prettiest voice, the best dance moves, and the most beautiful smile I had ever seen. She wants to be a Disney princess. Who am I to discourage her dream? My husband said, "She thinks she is a princess." She's five. I'm okay with that. There will be a day when she questions herself, her purpose, her abilities, and her calling. When this happens, we'll sit down and "get real." Until then, I'm going to love her unconditionally, bathe her every day in prayer, and offer her praise at every opportunity.
Jessica Bealer
Family Ministry Resource Director