Hey Quest parents – has your child told you about the hottest new band in town, The Guppies?
Each weekend in May during The Biggest Fan series The Guppies are teaching us how we can worship God in our everyday lives!  We will join lead singer Pearl, guitarist Leaf, drummer Z, and their tour bus driver, Enzo, as they discover what it means to worship God.
Let's meet the band!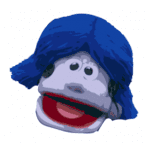 Name: Pearl
Hobbies: singing, dancing, and braiding hair
Favorite Food: Strawberry Pop-Tarts
Favorite worship song: "God is Number One"
Pet: a frog named Princess

Name: Leaf
Hobbies: playing the guitar, playing baseball, and surfing
Favorite Food: Mac 'n Cheese
Favorite worship song: "B-I-B-L-E Bible"
Pet: a crab named Superman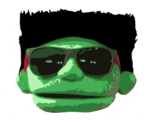 Name: Z (short for Zack)
Hobbies: Drumming, drumming, and drumming some more!
Favorite Food: Fruit Roll-Ups
Favorite worship song: All of them!
Pet: None, Z is afraid of animals!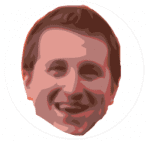 Name: Enzo
Hobbies: driving the tour bus, competing in tic-tac-toe tournaments, and drawing
Favorite Food: Captain Crunch
Favorite worship song: "Jesus is the Best, oh Yes!"
Pet: a dog named Fluffy
Last weekend Quest kids received their very own The Guppies concert poster!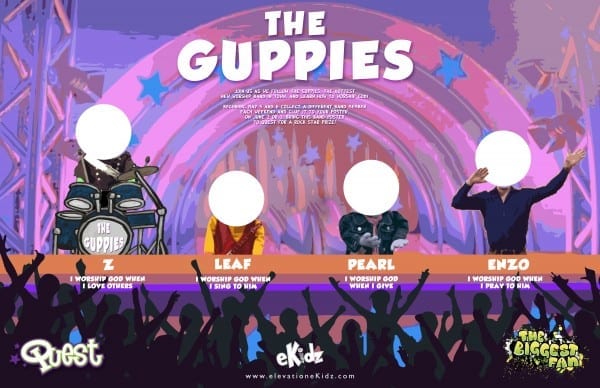 Each weekend kids will collect a new band member's face to attach to The Guppies concert poster.  Collect all four faces and bring the concert poster back to Quest the weekend of June 5 and 6 for a rock star prize!
See you this weekend as we learn "I worship God when I pray to Him!"
Was your child not able to attend Quest this past weekend?  Don't worry!  Your child can get The Guppies concert poster this weekend in Quest as well as a "Leaf" band member cutout, or download the "Leaf" cutout HERE