What is your favorite thing God created? ● Isaiah 40:26
As a family, discuss a few questions together after your child watches this week's episode.
Question #1: What is your favorite thing God created?
Question #2: Read Isaiah 40:26. How does it make you feel to know that the same Creator who knows the names of the trillions and trillions of stars in the universe knows your name too and loves you?  
Question #3: We learned about empathy today, and how it's important to try to understand others and what they're feeling without judging or running away from them. How does knowing that everyone is made by the Creator of the Universe help you to have empathy for someone — even if you don't really like them that much?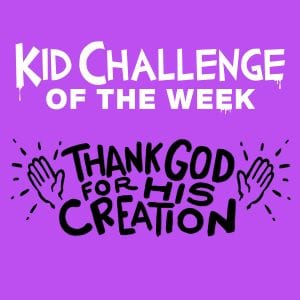 God is eternal and He created everything! God didn't just make everything, he made everyone, too! And when we believe that, it can change how we treat people.
Your challenge this week is to thank God for His creation. Each day, grab a piece of paper and write down someone in your life. Pray and thank God for this person. Then, do something this week to show that person you care about them — that's a great way to thank God for His creation!
For more information about eKidz Online, visit our eKidz Online YouTube page. You can catch us during any of the Elevation Church live broadcasts, and those times can be found HERE.