What's the hardest part about talking to someone you don't agree with? ●  Ephesians 4:14-15 NLT
As a family, discuss a few questions together after your child watches this week's episode.
Question #1: What's the hardest part about talking to someone you don't agree with?
Question #2: What's the best piece of advice you can give someone to help them find common ground with someone they often disagree with? 
Question #3: Read Ephesians 4:14-15 NLT. How does this verse tell us to speak the truth? How can living out this verse help untangle tensions between people?
Question #4: Think about someone in your life that you often disagree with (but, to be as respectful as possible, keep their name to yourself). What is one specific way you can show love to them this week? Where could you find common ground with them?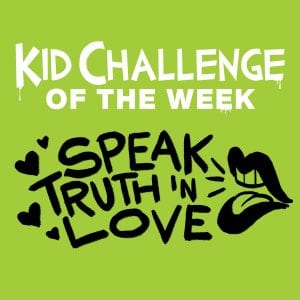 Have you ever talked to someone who believed something different then you? It can be easy to get angry or tell them they're wrong. But Jesus did the opposite.
Instead of getting mad, He showed them grace and love. It's okay to disagree, but it's not okay to treat people unkindly. Your challenge this week is when someone disagrees with you, speak truth in love — love them because it's what Jesus would do, and listen to them so you can better understand them instead of trying to force them to see your point of view.
For more information about eKidz Online, visit our eKidz Online YouTube page. You can catch us during any of the Elevation Church live broadcasts, and those times can be found HERE.