What's the best news you've ever heard?  ●  1 Peter 3:15 NIRV
As a family, discuss a few questions together after your child watches this week's episode.
Question #1: What's the best news you've ever heard?
Question #2: Read 1 Peter 3:15 from the NIRV translation. How does this verse describe the way you should spread hope in Jesus?
Question #3: If the good news is life-changing, and you've chosen to follow Jesus, how has your life changed? If you haven't chosen to follow Jesus yet, how do you think your life might change if you did?
This month during eKidz Online, we're learning about the life-changing good news of Jesus and how we can share this good news with others. If your child is asking what it means to live for God and receive this good news, CLICK HERE for resources to help you have a conversation with them.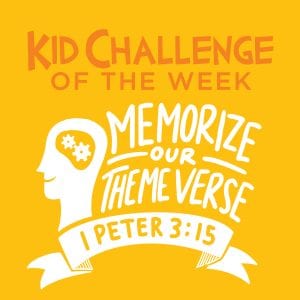 Memorizing scripture is a game changer. Hiding God's Word in your heart is the fastest way to fight the enemy, so challenge yourself to memorize 1 Peter 3:15 (NIRV), the verse we'll be studying during the next three weeks.
Here are a few ideas to help you get started:
Write the verse on a piece of paper and tape it to your bathroom mirror or next to your bed. Read the verse out loud each time you see it!

Write the verse on sticky notes or small pieces of paper, one word per piece. Scramble the words and try to put them in the correct order.

Bounce a ball or balloon back and forth as you say each word in the verse.

Create motions for each word or phrases of the verse.
For more information about eKidz Online, visit our eKidz Online YouTube page. You can catch us during any of the Elevation Church live broadcasts, and those times can be found HERE.