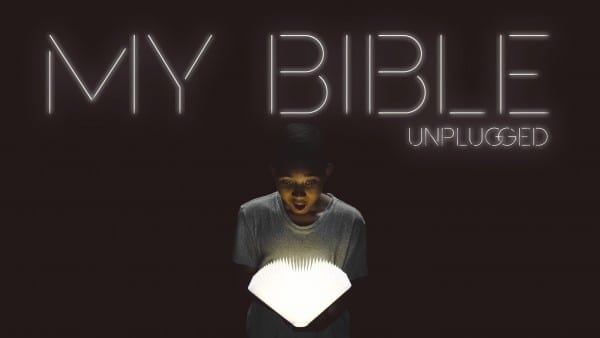 Unplugged: The Bible is boring.
Plugged In: The Bible is the ultimate true story, full of heroes, villains, action, love, and grace.
Weekly Scripture: Hebrews 4:12
This week we began a brand new series called My Bible, where we're unplugging from some negative misconceptions we might have about the Bible and plugging into truths about it. This week we unplugged from the idea that the Bible is boring and plugged into the truth that it is an amazing collection of true stories, ultimately showing all God did to win back his true love – us.
Check out the first episode.

As Chelsea taught us, the Bible can be like a sword to us. And just like a warrior would never go without his sword, we need to plug into the Bible daily. During this series, we're going to be getting to know the guys and gals who play The Finders in the popular eKidz series. We're going to learn how they plug into their Bible during a segment called Me & My Bible. Up first, Riley, who plays Charlie.

This week, as your family looks at how to plug into the Bible together, start by reading a few of your favorite stories together. If you need some ideas of where to start, here are a few of our favorites:
Creation, Genesis 1-3
Joseph, Genesis 37-50
David and Goliath, I Samuel 17
The Fiery Furnace, Daniel 3
Brave Queen Esther, Esther 1-10
Jesus' Birth, Luke 2
The Faith of the Centurion, Matthew 8
Jesus Feeds 5,000, Matthew 14
Jesus Heals Jairus' Daughter, Mark 5
Saul's Conversion, Acts 9