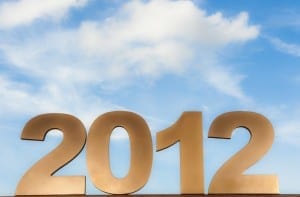 In the month of January, gym membership sign-ups hit record numbers, along with the sale of cardio equipment and fitness wear. It's no secret that the number one New Year's Resolution world-wide is to get fit. Some people want to change the way their body looks, while others simply strive to eat better.
1 Corinthians 6:19-20 says, "Do you not know that your body is a temple of the Holy Spirit, who is in you, whom you have received from God? You are not your own; you were bought at a price. Therefore honor God with your body." Deciding to treat your body as a temple, to eat foods that will benefit you, and to exercise regularly can be a great resolution for your entire family! Need an accountability partner? How about your kid?! Getting healthy in 2012 can be a family affair!
Instead of stressing out over the scale, commit to changing how you and your family eat and how you exercise. Research shows that individuals with unrealistic expectations and no accountability lose motivation quickest. Cutting out all carbs, loosing twenty pounds in a month, or eliminating sugar entirely from one's diet are impossibilities that ensure failure. Kids like sugar. It's why Walmart gives kids free cookies, the doctor's office hands out lollipops, and the dentist insists on sealant for elementary ages. However, just like with everything else, moderation is key. Plan your diet around the food pyramid and then allow one splurge a day. It's an easy way for your family to stay focused without feeling trapped by extreme diet trends. Check out other family friendly suggestions to get fit in the New Year!
replace TV time with a quick bike ride or a game of football in the backyard.
get creative with how you serve fruits and veggies to your kids. Turn a banana and an apple into a fruit smiley face.
carve out time in your daily routine for exercise.
create your grocery shopping list around the healthy meals you've planned.
always keep healthy "quick" alternatives in your cupboard. (ie. peanut butter and banana sandwiches)
enter a "Fun Run" with your kids. It's an exciting way to promote physical fitness.
make a chart where kids can record what they've eaten each day.