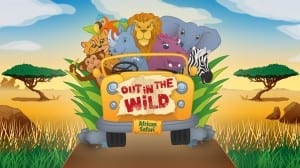 Bible Story: Philip and the Ethopian Leader | Acts 8:26-40
Main Point: The Bible is for Everyone!
Memory Verse: "Open my eyes to see the wonderful truths in your instructions." Psalm 119:18 (NLT)
This weekend was our very last safari adventure our in the wild. We discovered our very last safari animal, the cheetah, who told us a Bible story from her favorite book, the Bible. This story was about a man named Philip, and how God had a special job for him to do! While Philip was walking along the road, he came across a man in a chariot from another country. The man was trying to read a scroll of God's Word, and Philip helped the man to understand what was written. Philip helped the man learn about Jesus and how much he loves us!
We learned "The Bible is for Everyone!" and is full of wonderful things that God wants everyone to see!