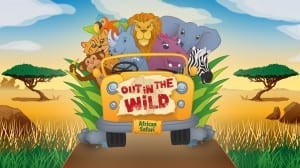 Bible Story: Jeremiah Tells God's Word | Jeremiah 36
Main Point: The Bible is God's Word!
Memory Verse: "Open my eyes to see the wonderful truths in your instructions." Psalm 119:18 (NLT)
Searching the safari for adventure has never been so fun as we headed out in the world to see all the wonderful things God wants us to see in His Word! Our safari guide, Rafiki, took us on an adventure and we discovered a beautiful creature God made, the zebra, who shared a story from the Bible with us.
We learned about Jeremiah sharing God's Word with others. God told Jeremiah to write His Word down on a scroll, and even though he faced trouble, he obeyed God and wrote it down anyway. Jeremiah was writing down God's Word! We learned "The Bible is God's Word!" from our safari adventure.
During our time in the safari, we will use a magnifying glass to search for animals by following their footprints! Each week, children in Quest will help Rafiki track a different animal and collect a magnifying glass to glue on their safari map. If your child collects all 5 MAGNIFYING GLASSES and brings their completed poster back to Quest on November 30/December 1, they will receive their very own magnifying glass!

If your child missed Quest this weekend, make sure to ask the room leader at your location for an Out In The Wild safari map and CLICK HERE to download the zebra tracks magnifying glass.
November Memory Verse
This month our memory verse is Psalm 119:18. Work with your child to learn our November memory verse. Any Quest child who recites the verse the last weekend of November will earn a special prize!
Open my eyes (point to eyes)
to see (make binoculars with hands)
the wonderful truths (spread arms wide)
in your instructions. (make hands like a book)
Psalm 119:18 (NLT)