Parents: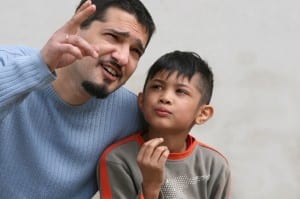 By now, I'm sure that you have had a conversation with your child about the tragedy in Connecticut. I'm also sure that your kids have asked some very difficult questions. As you wrestle with what to say, let me make one recommendation. Focus your answers on who you point to instead of who/what you point at. At first glance they may sound like the same thing but I assure you that they are not.
You can point at the killer, the guns, the news. The more you watch and hear, the more there is to point at. The problem with all of this is that none of these things provide true hope and comfort.
I would encourage you, instead of pointing at anything, choose to point to someone. Point to Jesus; our comfort, our help, our refuge, our hope. Check out this powerful truth found in Second Corinthians that helped me as I wrestled with what to say to my own kids.
2 Corinthians 1:3-4 Praise be to the God and Father of our Lord Jesus Christ, the Father of compassion and the God of all comfort, who comforts us in all our troubles, so that we can comfort those in any trouble with the comfort we ourselves have received from God.
First and foremost, point your child to Jesus.
Frank Bealer (Family Pastor)                                                                                  Twitter: @fbealer
You are encouraged to comment on this post with questions and suggestions.