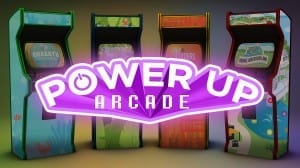 Bible Story: Jesus Washing The Disciples' Feet | John 13:1-17
Main Point: I Will Do Things For Others!
Memory Verse: "Whoever has my commands and keeps them is the one who loves me." – John 14:21a (NIV)
We had a blast at Power Up Arcade this past weekend! We played level 7 of Jungle Run and helped our jungle friend the Tiger collect all the lost coins!
Over in Video Game Land we met up with our friends Button and Switch who needed our help in the Cloud Zone to find the seventh Power Up Piece. The clouds were very soft and bouncy and Switch was jumping as high as he could on the clouds! But Button couldn't join the fun because she was carrying a backpack, which was very heavy with all the Power Up pieces inside.
After seeing the seventh power up piece high up in the clouds, Switch tried to jump up and grab the power up piece, but he couldn't quiet get it! Not knowing what to do, Switch and Button decided to check out what the Bible had to say. We learned about Jesus washing the disciples feet because He loved the disciples and wanted to serve them. Jesus did things for others, and He calls us to do things for others, too.
After Switch heard our Bible story, he decided to do something for Button and hold the backpack so Button could jump on the clouds to reach the Power Up Piece. Button was able to jump high and she reached the seventh Power Up Piece!
Power Up Wheel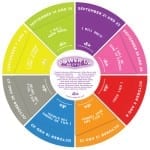 Throughout our time in Power Up Arcade, we will be collecting eight power up pieces to put on our very own power up wheel! This past weekend, all Quest children received a blue power up piece. If your child missed Quest this weekend, click HERE to download this weekend's Power Up piece or ask the room leader at your location for a piece next weekend.
Does your child know the memory verse?
Any Quest child who recites John 14:21a this weekend will earn a special Power Up Arcade chocolate coin!
Whoever has my commands (hold hands like a book)
and keeps them (two thumbs up)
is the one who loves me. (cross arms over chest)
John 14:21a (hold up one finger, then 2 fingers)