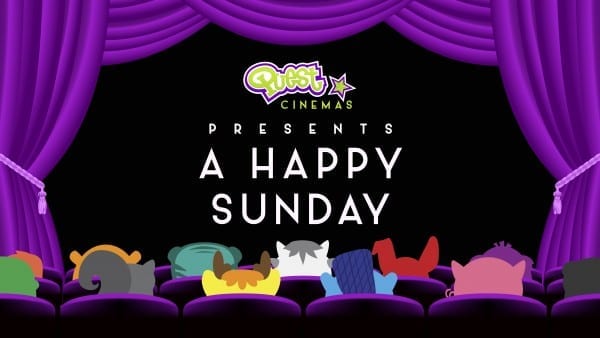 Bible Story: Mark 16:1-4, Matthew 28:5-8, John 20:3-10, Luke 24:1-12, 36-49 | Jesus' Death and Resurrection
Main Point: Jesus makes me God's friend because I believe He lives again!
Memory Verse: "Believe in your heart that God raised Jesus from the dead." Romans 10:9
Lesson Overview
At Quest Cinemas, we've been learning God can't be friends with sin and wrong choices, but God gave us grace when Jesus made a way for us to be friends with God!

We are partnering with Lifechurch.tv and using their A Happy Sunday video curriculum.To learn more about LifeKIDS, visit http://lifekids.tv. 
Guy the Bible guy taught us a special verse from the Bible. It says:
Romans 10:9 (open hands like a book)
Believe in your heart (cross hands over heart then say 'Bump, bump. Bump, bump.')
that God (point both pointer fingers up)
raised Him from the dead. (raise arms up from sides then say woo-hoo while moving arms from left to right)
Say each line and let your child repeat it after you. After a few times, see if your child can say the Bible verse without help. Celebrate with your child if they are able to say the verse from memory!
Children can recite this verse during any of our Easter worship experiences (APRIL 3-5) for a special prize!
Quest Cinemas Movie Poster
Each weekend children visit Quest Cinemas they can collect another movie ticket for their movie poster. Has your child collected four Quest movie tickets yet? When children collect four movie tickets, they can bring their movie poster back to Quest to receive a prize from Flash at the Quest Cinemas Concession Stand!