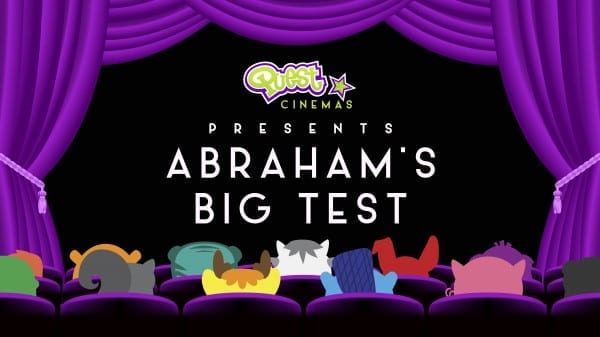 Bible Story: Genesis 15:1-6, 21:1-7, 22:1-19 | Abraham and Isaac
Main Point: I show faith every day when I trust and obey!
Memory Verse: "But I trust in you, Lord; I say, "You are my God." Psalm 31:14
Lesson Overview
We can have faith like Abraham when we trust and obey. Mr. Music helped Emily learn about faith with this fun song!
We are partnering with Lifechurch.tv and using their Abraham's Big Test video curriculum.To learn more about LifeKIDS, visit http://lifekids.tv.
Sing Mr. Music's song together with your child then spend some time talking about how we show faith in God. (obeying God, listening to our leaders, praying, waiting for His promises, doing what's right even when it's hard, being kind, etc.) Afterwards, pray with your child, asking God to help your child have faith like Abraham by trusting and obeying!
Quest Cinemas Movie Poster
Each weekend children visit Quest Cinemas they can collect another movie ticket for their movie poster. When children collect four movie tickets, they can bring their movie poster back to Quest to receive a prize from Flash at the Quest Cinemas Concession Stand!