Bible Story: Jesus and the 10 Lepers | Luke 17: 11-19
Main Point: I can give thanks with my WORDS!
Memory Verse: "And whatever you do whether in word or deed do it all in the name of the Lord Jesus, giving thanks to God the Father through him." Colossians 3:17
Lesson Overview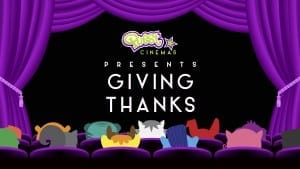 This week we joined our friends at Quest Cinemas to learn all about thankfulness. Each time we visit Quest Cinemas we'll watch another Movie of the Day, a special show to help us learn how we can give thanks in all we say and do.
This week's Movie of the Day was Thank You Grandpere Tiger! Our friend Daniel Tiger taught us we can give thanks with our WORDS. We read a story in the Bible which helped us learn to give thanks with our words, too. Through the story of Jesus and the 10 lepers, we learned we can show others how much we care by using our WORDS!
My Movie Poster
Each week children will receive a My Movie poster to help them remember to give thanks and worship God! Make sure to come back each week to collect all five My Movie Posters!
Memory Verse – Colossians 3:17
The Bible says that whatever we do, we should do it all while giving THANKS! Join us in helping your child learn out memory verse, Colossians 3:17. Any child who can recite the verse on December 5/6 will receive a pair of move star sunglasses!
And whatever you do (point out)
whether in word or deed (cup hands around mouth)
do it all (CLAP each word)
in the name of the Lord Jesus, (point up)
giving thanks to God the Father through him. (prayer hands)
Colossians 3:17
This Bible verse teaches us to give thanks in every situation! Help your movie-goer practice this verse at home. Then ask them to Remember, Think, and Follow to review what we learned this weekend.
REMEMBER: How many men were in the Bible story? (10)
THINK: After Jesus healed the 10 men, what idd one man come back and say to Jesus? (Thank you!)
FOLLOW: Who can you thank with your WORDS?