Bible Story: Jesus Born in a Stable | Luke 2:1-7
Main Point: I can believe the good news.
Memory Verse: "I bring you good news of great joy." Luke 2:10 (NLV)
There are so many special sights, sounds, and smells that fill the air as we count down to one of the most important days of the year: the day we celebrate Jesus' birth! As we count down to Christmas in Quest, we'll think about why this holiday is so special — not just because of all the fun that happens around us, but because it's when we celebrate the most special Person who ever lived!
In this week's lesson Mary gives birth to Jesus in a stable. You can watch the video here with your child:
When we believe something, that means we choose to know and remember something is true. We can believe the good news about Jesus' birth. I am so glad Mary and Joseph found a place to stay and I am so glad God loves us so much that He gave us Jesus! That is really good news!
DON'T MISS QUEST'S PAJAMA PARTY NEXT WEEK!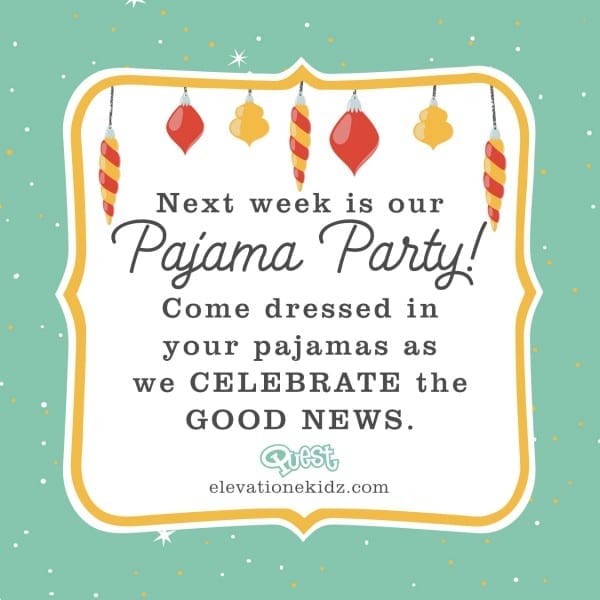 December Memory Verse
This month join us in helping your child learn Luke 2:10 (NLV). Children can recite the verse every week in December to earn a special memory verse card. When your child receives a memory verse card celebrate with them on learning their verse and put the card on their Quest poster. 
I bring you (bring hands to chest)
good news (right arm up)
of great joy. (left arm up)
Luke 2:10 (NLV)
It's good news that God sent His Son Jesus to be our Savior. This is the best news we could ever get! This verse tells us this good news brings us great joy! Practice this verse with your child so they can celebrate the good news and recite it to their eGroup Leader this weekend in Quest.

 eKidz At Home Activities
Family activities to review the lesson lesson with your child this week:
At BathTime, move the nativity set to the bathtub. Wash each piece and talk about what part they played in the Christmas story.

At PlayTime sit with your child and a nativity set. Together, make the voices and animal sounds and tell the true story of Christmas